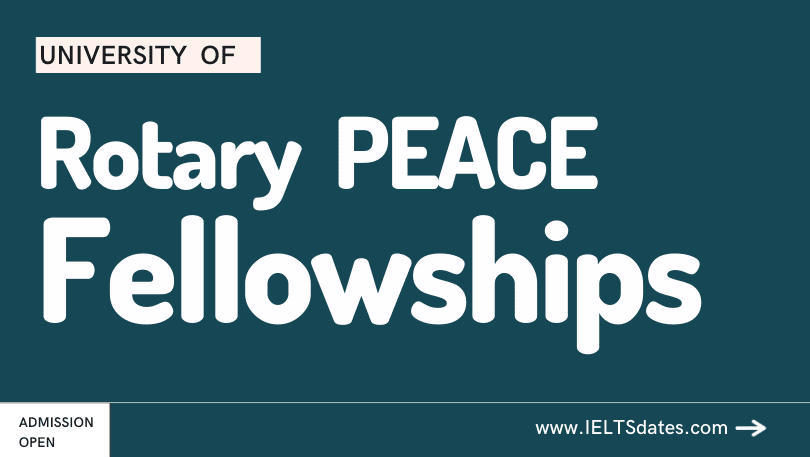 Rotary Foundation Scholarships are now being offered and its applications for the 2023-2024 batch from international students are open. Rotary clubs offer scholarships for secondary, undergraduate, or graduate study.  their six partner universities of the United States of America. The Rotary Foundation also offers scholarships for college graduates and professionals to study peace and conflict resolution.
Global grants are for graduate students studying abroad in one of Rotary's six causes:
Promoting peace
Fighting disease
Providing clean water, sanitation, and hygiene
Saving mothers and children
Supporting education
Growing local economies
Scholarships last from one to four years and can include an entire degree program. Global grant scholarships are funded using cash or District Designated Funds matched by the World Fund.
The Rotary Peace Fellowships 2023 is designed for leaders with work experience in peace and development. Our fellows are committed to community and international service and the pursuit of peace. Each year, The Rotary Foundation awards up to 50 fellowships for master's degrees and 80 for certificate studies at premier universities.
Benefits of Rotary Foundation Scholarships:
Rotary Foundation fellowships grants $30,000 which covers the following;
Tuition fee discount or full waiver
Travel expense
Inoculations
Visa and passport
Accommodation
Educational materials
Language training courses
Rotary Foundation Scholarships Programs:
Accepted candidates study peace and development issues with research-informed teaching and a diverse student body. The programs last 15 to 24 months and include a two- to three-month field study, which participants design themselves.
University Partners for Master's Program:
Duke University and University of North Carolina at Chapel Hill, USA
International Christian University, Tokyo, Japan
University of Bradford, Bradford, England
University of Queensland, Brisbane, Australia
University of Queensland, Brisbane, Australia
The professional development certificate program
During the one-year blended learning program, experienced peace and development professionals with diverse backgrounds gain practical skills to promote peace within their communities and across the globe. Fellows complete field studies and they also design and carry out a social change initiative. This program is intended for working professionals.
University Partners for Certificate Program:
Chulalongkorn University, Bangkok, Thailand
Makerere University, Kampala, Uganda
Eligibility Criteria for Rotary Peace Foundation Scholarships:
Master's degree candidates must:
Be proficient in English
Have a bachelor's degree
Have a strong commitment to cross-cultural understanding and peace as shown through professional and academic achievements and personal or community service
Potential for leadership
Have at least three years of full-time experience in peace or development work
Certificate candidates must:
Be proficient in English
Have a bachelor's degree
Have a strong commitment to cross-cultural understanding and peace as shown through professional and academic achievements and personal or community service
Demonstrate leadership skills
Be able to explain how their plan to promote peace aligns with Rotary's mission
Candidates for Makerere University: Either be from Africa, have worked in Africa, or work with African communities or initiatives outside the continent.
You are not eligible if you are an active Rotary member, employee of a Rotary club, Rotary International, or other Rotary entity.
Rotary Foundation Scholarships Documents Requirement:
Applicant must submit the following set of documents:
Copies of all the educational documents (transcripts/certificates)
Motivation Letter enlisting key points on why you are applying for Rotary Foundation Scholarships.
Statement of Purpose (SOP) explaining what will be your role in bringing positive change to the institute.
Two original Recommendation Letters by previous professors
Letter of intent (LOI) explaining why you are suitable for Rotary Foundation scholarships.
English Language Proficiency Certificate.
A valid copy of passport.
The Study plan essay
Application Procedure for Rotary Peace Foundation Scholarships:
From the website, go to the 'apply now' button and open the application form.
Fill out all the mandatory sections in the application form.
Applications require a resume, academic and/or professional recommendations, essays, transcripts, social impact plan (certificate only), and test scores (master's only). All materials must be in English.
As part of the application process, you need to connect with a Rotary district and get endorsed. Districts are regionally-based Rotary representatives located throughout the world. In early June, if your application meets the eligibility criteria it will be assigned to the district you have identified using the district finder embedded in the application, or to an at-large district or program alumni for endorsement consideration if you live in a district without a District Rotary Peace Fellowship Subcommittee Chair. The district or alum will interview you then submit an endorsement decision for your application.
Await selection results. Email notifications will be sent in November. If you are chosen for a fellowship, you will be told at which Peace Center you will study.
Apply for admission to the university where your Peace Center is located. Being selected for the fellowship does not mean you have been admitted to the university.
Deadline for Rotary Foundation Scholarships:
The last date to apply for Rotary Foundation Scholarships is 15th May, 2023 so candidates will have until 15 May to submit online applications to The Rotary Foundation whereas districts must submit their endorsement decisions to The Rotary Foundation by 1 July. The Rotary Foundation Scholarships invest in our future leaders and philanthropists by funding scholarships for undergraduate and graduate study.