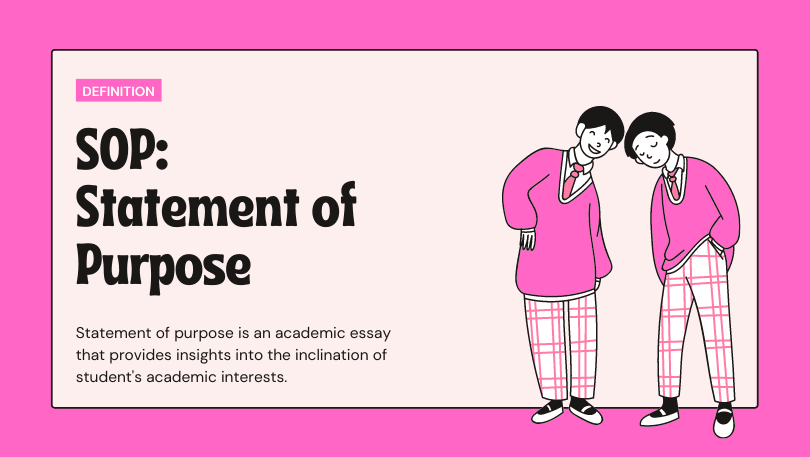 When was the first time you heard the word SOP? Definitely during this pandemic. Well, this SOP being heard or read during the pandemic is an abbreviation of Standard Operating Procedures. But this SOP is a different thing than the SOP we are going to talk about, which is an academic document required for admission into a college or university and it may also be required along with a scholarship application.
We are sure that most of the students haven't even heard about it because it is not much talked about, however, that doesn't mean it's not important. So for the students who are planning to apply for a scholarship and need information about SOP, read this article carefully because it's going to be a hell of a lot of help.
What is an SOP in education?
SOP is the abbreviation of Statement of Purpose, also known as a letter of intent, application essay, and graduate statement.
Statement of purpose is an academic essay that provides insights into the inclination of student's academic interests.
This academic document has information provided to the scholarship committee which makes them more familiar with the applicant's academic inclination and interests. It is generally written when the application for a scholarship has been in process of filing. So it has to be well drafted to get you ahead of others.
Importance of Statement of Purpose [SOP]:
The statement of purpose (SOP) is a vital academic document of interest during the scholarship procedure because it either makes or breaks your chances of getting into that college. The SOP document is used to catch the attention of the scholarship committee and provide solid points to them to prove to them that your academic interests are matching to their offered course and it also tells them that why you're the most eligible and deserving out of all candidates.
The scholarship committee asks for the personal statement (SOP) because they require a bird's-eye view of your academics, extracurricular activities, your future goals, interest in the chosen field, and much more. Remember, if you excel in the SOP writing, then your selection chances can rise up to 30%.
Statement of Purpose (SOP) Layout and Format
By following the simple steps mentioned below, you can get yourselves a mind-blowing SOP:
Fever pitch commencement:
The beginning of the SOP should be power-packed. The reason is that the scholarship committee receives thousands of SOPs, and they get tired of reviewing the same old boring documents. But if they get any hint of excitement at the start, they will review your document more attentively and will increase your chances.
Secondly, make sure that your presentation is up to the mark. This will put a good impression on the reviewer as the first impression is the last. The document should be written formally and in a professional way. There should be zero grammatical errors as these minor mistakes will take away your scholarship.
From here, you start reasoning. This part focuses on providing the reviewer knowledge about why you chose that particular college and why you think you can fit in there. Then mention the reasons behind choosing that particular field. Don't over exaggerate but do tell the reviewer that you're passionate about what you've chosen. This document should portray the impression that you know what you're doing and that you are a well-planned person.
Emphasize on your eligibility:
Now you have to emphasize the reasons for your eligibility. Make sure that these reasons are solid and not the same as others. The reviewer pays special attention to this point so it should be a unique one. The eligibility criteria vary among different scholarships, so first read the eligibility criteria of your scholarship program and then mention these points.
This point is very much impactful. Write about your future goals. These goals should seem realistic to the reviewer and not depict the thought of a fool who is daydreaming. Highlighting the major points of your aims and goals in a systemic and professional manner can get you a lit SOP.
This is the last point in which you convince the panel that you can contribute to making a high name for yourself and that college. Mention in how many ways you can prove to be an asset for the college. Your tone of convincing should be official and formal.
Conclusion

:
The statement of purpose (SOP) also known as a personal statement is the academic document detailing your interest in an academic course. It may make or breaks your chances of winning a scholarship. That is why you should not turn a blind eye to it. Following our guidelines, you will definitely ace your SOP.