American Scholarships
Fulbright Scholarship 2022-2023 for International Students
Fulbright Scholarship Application Deadline: Sept 15, 2021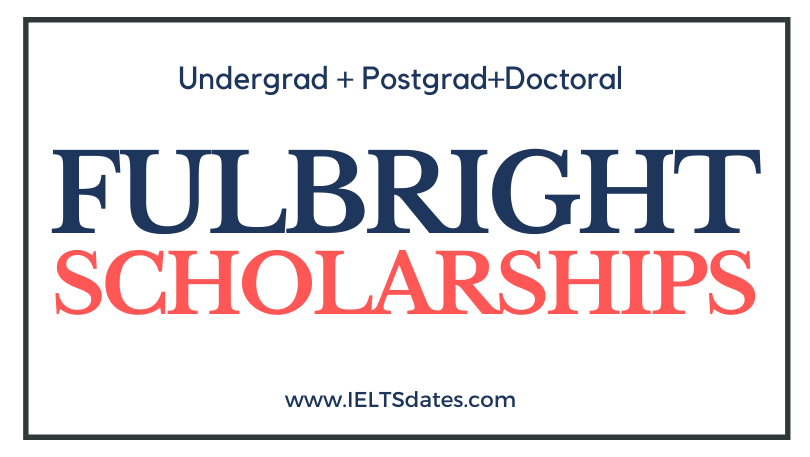 US Fulbright Scholarships 2022-2023 competition is now open for online applications for all international students. The deadline to submit your application for a Fulbright scholarship program is September 15, 2021.
Fulbright opportunities range from a few months to a full year and many of our awards offer flexible durations. Each award outlines the duration and potential start dates. Many awards offer a Flex option which is designed for Scholars who require multiple visits to the host country. This option allows grants to be conducted over short segments, preferably during the fall and/or spring semesters. Applicants should clearly indicate plans for Flex in their project statement and include a project timeline.
The Fulbright Foreign Student Program enables graduate students, young professionals, and artists from abroad to study and conduct research in the United States. The Fulbright Foreign Student Program operates in more than 160 countries worldwide. Approximately 4,000 foreign students receive Fulbright scholarships each year.
The Fulbright Foreign Student Program is administered by binational Fulbright Commissions/Foundations or U.S. Embassies. All Foreign Student Program applications are processed by these offices.
Fulbright Scholarship Benefits
Partial to full tuition fees waiver
Nice accommodation at University or college dormitory
Funding for attending conferences
Literature buying expenses covered
Medical health insurance
Airfare funding in some cases
Research grant allocation
Fulbright Scholarship Eligibility Checklist
The Fulbright scholarship is awarded to various disciplines and degree-level students. So please make sure to go through this eligibility checklist in order to make sure that you stand eligible to apply for this competition.
Fulbright Scholarship Categories
Fulbright Scholar Awards comprise the bulk of awards offered and include opportunities for professionals, artists, and scholars at all career levels. Location and eligibility vary across all awards, and some awards may be restricted to certain career levels or types of scholars. This information is outlined in the award description. The Global Scholar Award and the  Fulbright Public Policy Fellowship are unique opportunities within the Fulbright Scholar awards.
#2 Fulbright Distinguished Scholar Awards 
Distinguished Scholar awards are viewed as the most prestigious appointments in the Fulbright Scholar Program. Awards are open to scholars who have more than seven years of experience in their discipline or area of expertise, though some awards may further restrict eligibility. Distinguished Scholars are expected to actively engage host institutions in a spirit of promoting mutual understanding and sharing knowledge.
#3 Fulbright Postdoctoral Awards
Postdoctoral Awards provide recently graduate scholars an opportunity to conduct research and receive professional training abroad. Awards may involve limited teaching. Postdocs are open to scholars who will have received a doctoral degree (Ph.D., J.D., M.D., Ed.D., etc.) within five years of the fellowship start date. Degree conferment before the start of the award is mandatory. Institutional affiliation in the U.S. is not required.
#4 Fulbright International Education Administrator Awards
This award provides international education professionals and senior higher education officials an opportunity to engage in a two-week intensive seminar to learn about the host country's education system and establish networks of U.S. and international colleagues.
Opening & Closing Dates of Fulbright Scholarship Application Window
| | |
| --- | --- |
| February 1 | Fulbright Competition Opens |
| September 15 | Application deadline; all materials, including letters of recommendation, due |
| October-1 | Letter of Invitation deadline for awards that require it |
| October-November | U.S. Peer Review |
| November-December | Applicants notified of peer review status |
| December-April | In-country review |
| January-May | Applicants notified of final selection status |
Steps to Apply for Fulbright Scholarship 2022
Step 1:
Review the requirements for submitting an application such as eligibility, award description, etc
Step 2:
Start the application here and record your user name and password in a safe place. Your email address is your user name. When you create an account for this online application, record your password in a secure place. If necessary, you can reset your password by clicking Forgot Your Password on the log-in page.
Step 3:
Complete the Fulbright scholarship application. You do not need to complete this application at one time. You can re-enter at any time to edit your application. However, once you SUBMIT your application, you CANNOT make changes to it.
Additional tips:
Have these instructions and the award description available for reference.
Use proper capitalization: avoid using all capital letters (e.g. FULBRIGHT) and/or all lowercase letters (e.g., Fulbright). Correct use: Fulbright
Do not use special characters, such as letters with accent marks.
You can copy and paste information into all text boxes.
Prepare required documents and save them in PDF format. This helps to preserve any formatting and special characters in your documents.
Some questions are "required." They are marked with an asterisk (*). You will not be able to submit your application until all required items are complete.
Step 4:
Submit the application. Once you have entered all required information, including recommenders (and foreign
language evaluators, if needed), review your application for errors. When all information is correct and complete, submit your application. Once you submit you CANNOT make changes to your application.
Fulbright Scholarship Application Deadline: September 15, 2021