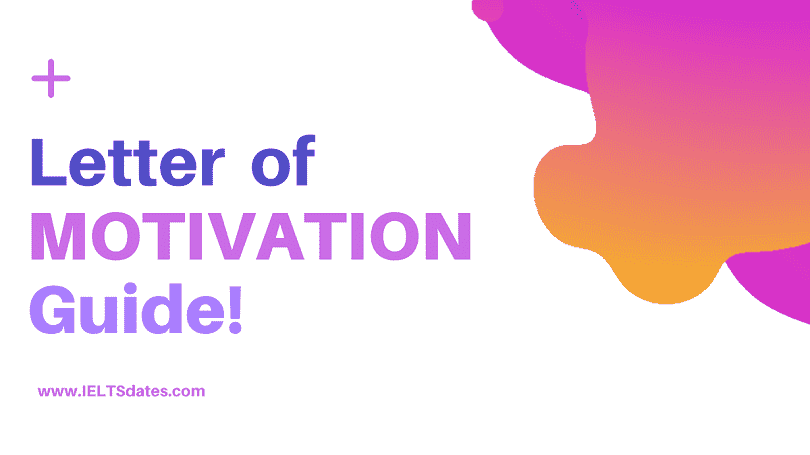 Almost all scholarship applications today require you to write a motivation letter. And indeed, the motivation letter plays an integral part in making or breaking things for you. 
Why write a motivation letter? 
A quality motivation letter can win you the scholarship itself. Believe it or not, if your motivation letter is worthy enough, the authorities are going to award you the scholarship neglecting the small flaws or shortcomings of your application. Yes, it does play a decisive role, hence paying attention to it is necessary!
Undoubtedly it is important, but the question is how exactly to write a motivation letter that does the job? However, as you are reading this article you better do not worry anymore. This article is going to answer all questions you have regarding writing a pro motivation letter. 
What is a motivation letter?
A motivation letter introduces you as a candidate and states the factors motivating you to apply for the scholarship. One page is generally considered the standard length or size for it. A motivation letter is your tool to get the examiner interested in you and your academic career. You simply try to convince the reader that you are the best and the most deserving candidate.
Writing a Letter of Motivation for Next Scholarship Application:
Following are the key steps to writing a successful motivation letter
Step 1: Research and find what makes one an ideal candidate
Google the term 'what makes one an ideal candidate for the scholarship.' You will get a lot of information on the topic. After reading a few articles or maybe book summaries, write what have you learned so far and express it in your own words. After getting to know what the characteristics of a good candidate are, try writing your motivation letter in a way that the letter itself speaks for you and proves that you are the 'ideal candidate' the institution or organization is looking for.  
Step 2: Never lose confidence
Never let your writing express that you are an unconfident person. Don't speak like 'I will try to be helpful …etc.' Give statements like 'my work ethics will surely be helpful to your business.' Your choice of words tells about you. No one likes to work or spend on unconfident people. You are only deserving if you prove yourself confident enough to face any challenging situation or environment. 
Step 3: Have your strategy ready
Remember, you are the only solution to their problems! This means that you are being awarded a scholarship because the awarding organization wants something in return from you i.e. you help in solving some of their contemporary problems. For example, if you are applying for a research scholarship, you need to tell how you are going to assist the organization meets its goals. What role can you play if you are awarded the scholarship? To answer these questions perfectly you need to have your research done and have your strategy ready before you get to writing the motivation letter.
Step 4: Know who you are (prepare your profile)
You are wrong if you think your flowery language will impress the reading audience. Your identity, achievements, motivation, and confidence are going to determine your success. Before you start writing, brainstorm about yourself and prepare your profile. Create a detailed description of your educational career, your achievements in extra-curricular activities or social works. You have to include a succinct version of this profile in your motivation letter. 
Step 5: Write the motivation letter
Your motivation letter is divided into three major parts: an introduction, body, and conclusion. Below mentioned are the guidelines that will help you in composing these three parts effectively.
Motivation Letter Outline with Structure
Introduction:
The introduction simply introduces you. It reflects your personality and tells the reader who you are. It lets the reader know your name, academic background, and future aspirations. In short, it contains your brief profile. 
Body:
This is the part of the letter where you get into the details. You discuss your motivation and bring to light the factors that motivated you to go for the scholarship. Also, it is the part of the letter where the majority of content is present. Hence, you can mention all the important details like lifetime achievements, your expertise, experiences, etc. in the body. Moreover, you discuss your future goals and also the strategy to achieve those goals. 
Conclusion:
In the conclusion, you simply bring the argumentation to an appropriate end. It includes a summary of the main arguments that you have presented in the body. Do not miss the conclusion either, state some sentences that prove you perfect candidate for the scholarship. 
Things to remember while Writing a Letter of Motivation:
Never forget the reason behind writing the motivation letter. Every part of the letter, whether body or conclusion, should prove your merit.

Never forget the word 'motivation.' State your motivation in clear words. Show how passionate you are about the opportunity.

Be formal with your language. Remember, your motivation letter is a professional document.

Get your letter reviewed and edited by a professional. You can seek the help of your English teacher or you can find an expert online.
Congratulations! Now you have the perfect strategy that you can use to write a winning motivation letter. Hence, it's time to start and finally make it happen!