Admissions Without IELTS
List of Countries Without IELTS Requirement for Scholarship Admissions
List of Universities without IELTS requirement for College Admissions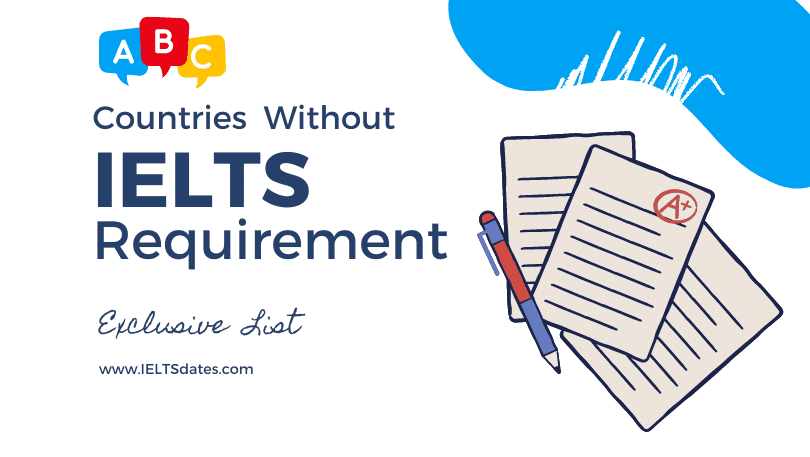 If you want to apply for studies abroad then you need to start by making a list of all the pre requisites for your admission and scholarship application and as you can guess different countries with different universities have their own set of admission, VISA, and scholarship requirements but almost all foreign universities demand their overseas student applicants to take a test of English language proficiency.
Commonly, students take either PTE, CAE, IELTS, TOEFL, or Duolingo exam because these tests are widely accepted by universities abroad and both these exams are used to test how proficient a student is in English language including your skills on reading, writing, and speaking in English.
I understand these English tests are expensive to take and with that very difficult to score high if English is not your first language and another downside of taking these English tests is that you will be bound to appear for taking these tests before you can actually stand eligible for a scholarship or admission and this is where you will require more time and would be pushed back in your timeline to start your next degree abroad. What's more, some students do not perform well the first time they take the English (IELTS) test so then those students re take that English language test and spend more money.
However, do not let this prevent you from applying to foreign universities as even though there are still several international universities that can offer you admission on scholarships without the need for IELTS or TOEFL exams.
List of Countries without IELTS requirements for Admissions in 2023
You can go through a list of different universities that can give you admission without the need to take TOEFL or IELTS test in 2023:
1 List of Universities in Australia without IELTS
Australia has several universities that offer admission or scholarships to international students without IELTS requirement and those universities are listed below:
Swinburne University of Technology
University of Queensland
University of New South Wales
University of Southern Queensland
Bond University
University of Adelaide
University of South Australia
Macquarie University
If a student has undertaken full-time course with English being the main language of instruction, or if they have worked in any English speaking organization for a period of at least 5 years, then they are eligible to apply to the University of Queensland.
Macquarie University and University of Adelaide offer students the opportunity to students from non-native English speaking countries to start a free of cost foundation English course before they start their degree programme and University of South Australia & Bond University allow students to take IELTS alternate tests such as PTE or CAE.
Whereas Bond University, Swinburne University of Technology and University of Southern Queensland (USQ) also accept those students whose secondary education was in English language and USQ encourages students to take English language preparatory courses before they apply for degree programs at the University.
2 List of Universities in Canada without IELTS
Canada is a great option if you want to go abroad for studies but also want to avoid hassle of having to take the TOEFL or IELTS exams as several Canadian universities do not demand from international students to provide IELTS or TOEFL certificates.
The idea is that if you have ever lived and attended school in a region in which English was the main language of instruction for a period of at least 4 years then you do not have to for an IELTS exam and here is a list of such Canadian universities that welcome applications from those students who have not taken IELTS exam yet:
Concordia University
Brock University
University of Winnipeg
Memorial University
Carleton University
University of Regina
3 List of Universities in UK without IELTS
There are several universities in United Kingdom that welcome international student applicants who have not taken  IELTS such as:
University of Bristol
London Southbank University
Robert Gordon University
University of Bolton
Applicants from several countries, including South Africa, Nigeria, and Ghana often choose to apply for admission or scholarships at above mentioned British universities with exemption from IELTS.
4 Study in Europe without IELTS
Apart from United Kingdom you can also apply for scholarships without IETS requirement in other European countries on the basis of following requirements:
Student received education in English language from last attended educational institution
Applicant has fluency in English language communication skills and hold a degree that was taught in English language.
5 Study in Norway without IELTS
In order to study in Norway, you do not need to prove proficiency in English however if you apply for admission at University of Oslo then you might be required to submit your IELTS scores unless you are from South Africa.
6 List of Universities in USA without IELTS
Most universities in United States do require IELTS test along with the other application documents so lets explore those US universities that accept admission applications without IELTS exam:
Drexel University: in order to pursue a degree at Drexel, you will have to sign up for two courses, namely the Bridge Program and the University Preparation Summer Program (UPREP) if you are an international student without any language proficiency proof.
University of Colorado: you do not need to present your TOEFL or IELTS scores if you meet conditions below:
English is your native language or you got any IELTS alternative test record
You have undertaken a program that has lasted a minimum of one year at an institution in the United States
However, some countries are excluded from this, such as Ghana, Nigeria, Botswana, and South Africa.
If international students sign up for Intensive English Language Program (IELP) then they can also receive admission offers from:
University of Arkansas
State University of New York
University of Dayton
You do not need to submit any proof of English language proficiency in case you have attended any secondary or graduate school where the medium of instruction was English. The English language requirement is waived off for a few countries by the University of New Orleans and California State University.
There are other US Universities as well that offer admission to international students without demanding IELTS test such as:
University of Delaware
University of Iowa
7 List of Universities in India without IELTS
For now, India does not require students to submit IELTS scores and popular Indian universities with IELTS exemption include Banaras Hindu University, University of Delhi, University of Calcutta, and University of Mumbai. Whether you are applying for a Bachelors degree, Masters degree, or PhDs admission you do not need to prove proficiency in English if your last acquired degree was taught in English language as most courses are taught in English language at these Indian universities.
8 List of Universities in China without IELTS
There are a total of 273 Chinese Universities that offer admissions to international students without the IELTS requirement and China is actually the only country that offers a wide range of Fully Funded Chinese Government Scholarships to international students without asking for an IELTS certificate at the time of application submission. Whereas some of Chinese Universities which do not requrie IELTS are Jiangsu University, NJUST, NUAA, Zhejiang University, SJTU, Donghua University, Tongj University, BIT, Xiamen University, and Harbin University.