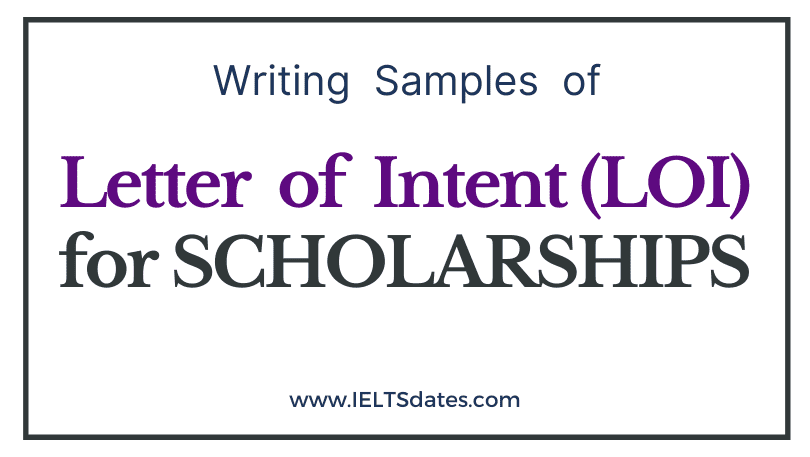 Letter of Intent abbreviated as LOI is a document showing interest in a scholarship, contract, business deal, internship, job, or another opportunity.
The intent letter or letter of intent (LOI) also known as the statement of purpose (sop) or personal statement submission is a requirement if you are applying for a scholarship. It gives the scholarship awarding committee an idea about your interests, aptitude, skills, and motivation regarding the field that you are applying for. It reflects your potential to progress in your field if written correctly. Your statement should reflect your curricular and extracurricular skills, activities, or achievements. In order to write attention grasping Intent Letter, you should be mindful of the instructions provided by the scholarship awarding authority.
Instructions to be Mindful of while Composing an LOI
Inclusion criteria if provided by the scholarship awarding authority.

Word count 

Page limit

Font style, font size, and line spacing ( if not provided then follow the general format of academic writings) (12 point Times New Roman with 1.5 line spacing)
Pattern for Writing the Intent Letter
Rules for writing the Intent letter are similar to that of cover letters for any job. Following should be contained in the Intend letter:
[Senders Name and Address],
[Submission Date],
[Subject],
[Recipient Name and Address],
[Main Body].
[Valediction],
[Sender's Sign].
Content of Intent Letter
#1 Start off with Study Plan:
Start off by introducing yourself by giving comprehensive detail about your career goals and aspirations. You need to layout your study plan and then you have to connect your study course with the career goal that you aspire to achieve. For instance, you can start your letter with a sentence like: "I have always had a passion for psychotherapy, and wish to pursue that at the University of California in Los- Angeles by enrolling in the undergraduate clinical psychology fall program. After graduating, I wish to pursue a graduate-level program in Clinical Psychology. I am interested in research on (you can provide your topic of interest here)." This will provide an explicit view of your study plan and career aspiration. 
#2 Provide Previous Academic Record and Work Experience:
Show your passion regarding your field to the scholarship awarding authority. You can do this by listing your previous academic records and work experience related to your field. You can also list the extra courses you have done to gain extra skills regarding your field. Your seriousness and passion should be reflected in your letter so that the awarding authority can be persuaded that you are a deserving candidate. Your letter should be specific and comprehensive at the same time. 
#3 Insights on Short and Long Term Goals:
You can conclude by providing your short-term and long-term goals regarding your career. These goals or objectives should echo your passion and dedication regarding your career venture. This will add soul to your intent letter of scholarship making it meaningful and purposeful. You can start the ending as "After completing my degree, I aim to work as a psychotherapist in (name the place where you wish to work and then continue with the goals you wish to achieve by working).
#4 State reasoning for your interest in an opportunity in question
This is the most important of all! The candidate needs to provide proper reasoning of their interest in an opportunity and what makes them competent for that position. Make sure to be to the point and proof read your letter of intent prior to submission.
Don't of Writing a Letter of Intent (LOI)
Don't repeat your CV or resume in the Intent letter. They may overlap, but they should not be identical.
Don't be clichéd while writing your letter. It has to be interesting, engaging, and unique to yourself. 
Don't lose track of your goal orientation. Stay positive and confident in your writing tone. 
Don't create your statement at the last minute rather make it as early as you can and review it a couple of times.
Don't forget to proofread. Avoid grammatical and typing errors. 
Don't use informal language.
Don't repeat information.
The Letter of Intent (LOI) reflects you as a candidate. Take your time and show the best version of yourself through it. This will increase your chances of scholarship acceptance.