Admissions Without IELTS
List of Universities Without IELTS Requirement for Admissions in 2024
Study abroad without IELTS or TOEFL in these universities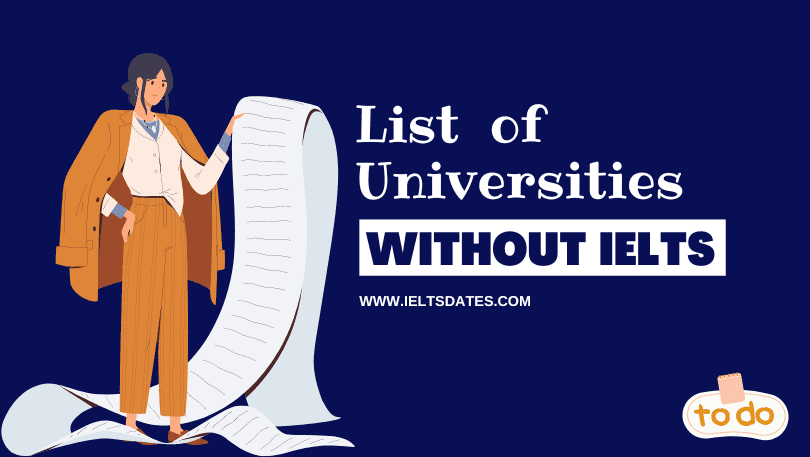 In order to study abroad at a high-rank university, you need to satisfy certain requirements and you can only get the admission in a university abroad if you provide certain prerequisites whereas among these prerequisites is the proof of language proficiency which you have to show through the language certificate. So, to make your application process easy and little stress-free we have written this article to give you the information about the universities abroad which do not require a language certificate. 
For most of the non-native English speakers this is sometimes difficult to gain the desired scores in the exams of IELTS and TOEFL and because of this most people do not get the admission and in addition to this, getting these certificates also puts financial pressure on people as it can be too expensive for some and also burdens you if you have to give the test again and again in order to get the desired score.
However, most of these universities require the scores of IELTS and TOEFL for admission purposes but the good news is that there are also some universities which do not require such exams moreover if you still wish to get an English exam then you may also need time to look for available dates for the IELTS exam.
Universities in countries such as the USA, Germany, and Australia offer international students the specialized programs to study their preferred courses at desired universities and these specialized programs are designed in a way that helps students to prepare themselves for a higher degree if they are not meeting the desired prerequisites.
Additionally, they also help students to get a degree from a university when their previous education is not accepted or recognized by the institution so you can attain higher degrees at the universities in Canada, Australia, UK, Germany, and Norway without providing language proficiency certificates such as IELTS, TOEFL or PTE.  
Following is the list of those universities which do not require TOEFL or IELTS or PTE exam at the time of admission.  
1- Australian Universities without IELTS, PTE or TOEFL:
In Australia, there are many universities which do not require IELTS or TOEFL test score. Some of them are mentioned as follows:
The University of Queensland offers admission to international students without IELTS or TOEFL when they show proof that they have completed their previous course at the university where the mode of instruction was English. Or the student has worked at a place where there was an environment in which English was spoken. The University of Macquarie and Adelaide University give admission to international students when they agree to have an English course before the commencement of the studies. However, the University of South Australia and Bond University require other tests such as PTE or CAE. Furthermore, Swinburne University, The University of Southern Queensland and Bond University give admission when you have attained your secondary education in English medium. Lastly, Southern Queensland University also provides the student with a pathway program to take admission to the university. 
2- Canadian Universities without IELTS, PTE or TOEFL:
If you are an international student and want to study abroad then Canada can be the best choice. The reason is that some universities in Canada do not require any TOEFL or IELTS or PTE exam for the purpose of admission. Moreover, if you have studied at an English medium institution before for a minimum of four years then you are good to go as you do not require to prove any language proficiency certificate. Following is the list of the universities which give admission to international students without language proficiency certificates. 
3- UK Universities without IELTS, PTE or TOEFL:
There are some universities in the United Kingdom which do not need the IELTS, TOEFL or PTE exam certification for the purpose of admission. The list of UK Universities and colleges without IELTS, PTE or TOEFL is as follows:
Different types of courses need a varied level of language proficiency. However, the people from the countries of Ghana, Nigeria and South Africa mostly get consideration from the universities listed above. 
4- EU Universities without IELTS, PTE or TOEFL:
You can study in European countries without providing IELTS or TOEFL scores if you provide the following proofs for English language proficiency. 
Your previous institution was at English medium institution and you have studied for at least 5 years at that institution. Moreover, the first language of the institution was English at the O level which is Ordinary Level or International General Certificate of Secondary Education (IGCSE).

You have proved that you possess decent communication skills and your previous education was entirely in English. 

You are applying to the institution from which you had your previous degree. 

You possess a degree that was entirely taught in English. 
4.1 IELTS requirements NORWAY Universities
In Norway, there is the University of Oslo which provides students with admission without a Language proficiency certificate. Moreover, at the University of Oslo people from Africa and South Africa are not are required to prove the English proficiency by showing the test scores of IELTS or TOEFL.  
4.2 IELTS requirements German Universities
Universities in Germany mostly do not require the exam of IELTS or TOEFL if your previous bachelor's degree is attained from the institution in which mode of instruction was English. Some of the universities mostly need a letter from the previous institution to prove proficiency in the English language. Moreover, there are some courses that do not require language proficiency. While for others, for example, for the English Philology course you need proficiency in the English language. 
4.3 IELTS requirements Holland Universities
InHolland University mostly accepts international students from the country of South Africa without asking them for TOEFL or IELTS. 
5- American Universities without IELTS, PTE or TOEFL:
In the United States of America, there are some universities listed as follows which do not require you to provide TOEFL or IELTS exam. 
University of Colorado:


If you meet the following conditions then the university of Colorado gives you admission. 

Your native language is English.

The student has completed the previous study of at least one year at the United states institution. However, the countries of Ghana, South Africa, Nigeria and Botswana are exempted from this requirement. 
Drexel University:
In order to get admission to Drexel University, you have to complete the international student program and the University Preparation Summer Program (UPREP) 
However, the following universities in the USA give admission to students if the students take an Intensive English Language Program (IELP).
The following universities in the United States require you to provide the language proof by showing proof that your previous education was entirely at an English medium institution. Moreover, the California State University ignores the minimum requirements for English proficiency. 
Apart from these, the universities to which you can apply without worrying about the TOEFL or IELTS score in the USA are as follows:
6- Malaysian Universities Do Not Require IELTS or TOEFL
If you are interested in studying abroad without showing IELTS or TOEFL exam then Malaysia can be your destination as it is among the top countries in Asia. In Malaysia, there is no need to provide English language proficiency proof for any kind of study. However, the mode of instruction in Malaysian countries is mostly English. 
7- Indian Universities Do Not Require IELTS or TOEFL
You can always study in India without providing proof of language prolificacy. As the Indian universities do not require you to show language proficiency proof. 
In India the universities like the University of Mumbai, University of Delhi, Banaras Hindu University and the University of Calcutta are famous. Moreover, they do not want you to show IELTS or TOEFL for university admission for BS, MS, Ph.D. or post-doctorate program. However, the language of teaching is English in most of the Universities.
8- Chinese Universities Do Not Require IELTS, TOEFL
Over 200 Chinese Universities do not require international students to provide IELTS or TOEFL certificate to apply for admission. Even Non-native English speaking students from non-native English speaking countries can apply for admission in Chinese Universities. Not only this, but China provides a wonderful opportunity for international students to apply for Chinese Government Scholarships without even worrying about the IELTS exam and no application fee.
9- Pakistani Universities Do Not Require IELTS, TOEFL
Pakistan has emerged as the top travel destination for the year 2020 as per the reports published by various top travel magazines (Gulf News Pakistan Report, CN traveler Pakistan Ranking). This country has a lot to offer because as per our research we found out that you don't need an IELTS certificate to apply for admission in any of Pakistani University as an international student.