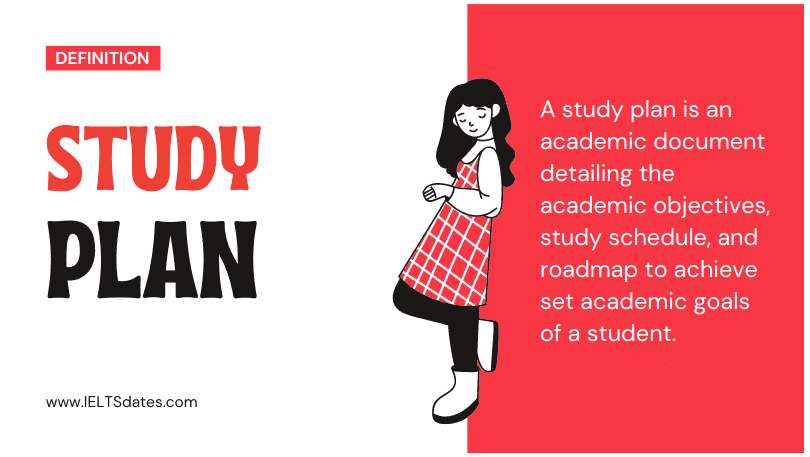 Applying for a scholarship is not an easy task as this procedure requires the submission of several documents that are essential for giving away the scholarship, but at the same time can be difficult for a student to arrange or create such documents.
As newbie college students don't always get the actual meaning of the documentation and the role that it plays in the selection of the ideal candidates. The scholarship panel of every scholarship offering college requires some mandatory documents that tell them about the academic record, character, future plans, and past working experience of the candidate. Scholarship CV, motivation letter, recommendation letter are some of these important and mandatory documents every student has heard about. But there is one more document that is not as important as these but has some significance and is essential to be provided by candidates in some colleges. That document is called a study plan essay.
A study plan is an academic document detailing the academic objectives, study schedule, and roadmap to achieve set academic goals of a student.
This article is going to be super informative for all the students out there, as it will provide A to Z knowledge on what is a study plan for a scholarship, how to write it, the importance of study plan plus there will be some pro tips at the end for your better understanding.
What is a study plan for a scholarship?
 A study plan is just like a timetable for studying with set academic goals and a roadmap to achieve them.
The study plan essay is created to manage study goals with life chores and extracurricular activities in a parallel fashion. When there is a list of courses that need to be studied with other parallel activities then following a study plan will definitely make it easy for students. Usually, a study plan essay is created to fulfill the objective of being organized and maintaining focus while studying. And a study plan for the scholarship is a bit different as it also outlines a proposed plan of study for the next academic journey for which the application for a scholarship grant is being submitted.
A study plan for the scholarship is a document that portrays the academic goals and study objectives of the candidate, highlighting the plan through which the applicant will achieve those study goals. It usually provides the manageable timetable of studies and other life chores of the candidate. This study plan should reflect time allotment and plan in an organized way.
The study plan is asked by some colleges along with the scholarship application form. This is because the scholarship panel wants to know if the students can manage their studies with other activities or part-time jobs; if they have any, and how well they work with the deadlines.
Importance of study plan:
A well-written study plan will enhance the chances of getting a scholarship and will take you one step ahead in this race. You need to reflect on every side of your daily routine with enough daily time allocation to your studies in your study plan; this will provide an insight on how managed and responsible you are as a student.
Not just this, it will help you in many other ways. If you have a study plan that is realistic and well scheduled, then you will be able to prioritize your subjects easily and it will improve your time management skills. If you follow your study plan strictly, keeping the deadlines in mind, you'll not only get good grades but you'll also save yourself some time. A study plan will keep you updated about your studies and you can update it any time according to your needs. It acts as a reminder, keeps you pre-planned and on track as compared to students who don't have a study plan.
The layout of the Study Plan:
Creating a study plan can be tricky, but if you follow the instructions provided below, then you will surely ace it. The following are the basics to write a study plan for a scholarship.
#1 Academic background:
The beginning of the study plan should include your full name, your recent educational institution, your recent educational degree, an outlook of your golden academic record, the highlight of your studying goals, future plans regarding your education, study routine or style, and lastly your flaws while studying and the strategy to get rid of them.
#2 Objective of the study plan:
In the study plan, you have to mention your goal to study in that particular college, the reason you chose that particular field of subject, your interest in that field, how passionate you are related to that field, your plan to study in that college.
#3 Time Table in the study plan:
Include a timetable in your study plan that prioritizes your educational goals. Allot a few hours to each course on different days of the week. For example, if you find the course of history difficult, then you allot 3 hours every Wednesday for that. You have to include other activities in the study plan regarding your daily chores related to your college, job, sports, and other activities. In this way, you'll be able to manage your time according to your needs.
#4 Arrange your programmes in the study plan:
Arrange your plans for the week according to your study plan. Allot deadlines for assignments, so that you don't get into a hustle at the last moment. Set up reminders for the study times. Most importantly, find your comfort in study hours and days. For example, if you can work better during night hours on the weekends, then go for that and keep this time free for studying. 
#5 Focus on the present study goals:
Your study goals will keep changing so don't stick to one study plan and keep updating it. This will help you to focus on your weak subjects more and you will utilize your time in the right direction.
#6 Follow the study plan rigorously:
Once you have a study plan in your hands, follow it strictly and arrange your plans accordingly. Remember, the study plan will get you through the semester with high grades, only if you follow it, but if you don't, then it will lose you your grades and time.
Pro Tips on Writing a Study Plan Essay:
Below are some pro tips that will help you create a spectacular and realistic study plan for a scholarship.
#1 Customize each session:
Customize your study plan according to your daily routine. The days when you have more classes or work should be kept for fewer courses to study, so that you can put your full focus on that particular course, rather than studying more courses without full attention. Go for the quality instead of quantity.
#2 Keep refreshing:
The study plan should be updated from time to time. As you don't have a single routine every month. Keep shuffling different days for different courses accordingly.
#3 Make deadlines for each course:
Make a schedule and get a projection of the time needed to accomplish the set academic goals in order to create deadlines. Creating deadlines can help you complete your work before time and also increase your working skills under pressure. It will also act as a reminder for you.
#4 Word Limit and Font:
The study plan for the scholarship is an official document therefore, it needs to be well-composed. The minimum word limit is 800 words. The font size should be 12 and you can use professional fonts such as Calibri, Times New Roman, Verdana, and Arial.