IELTS
Minimum IELTS Score Requirement for Canada and New Zealand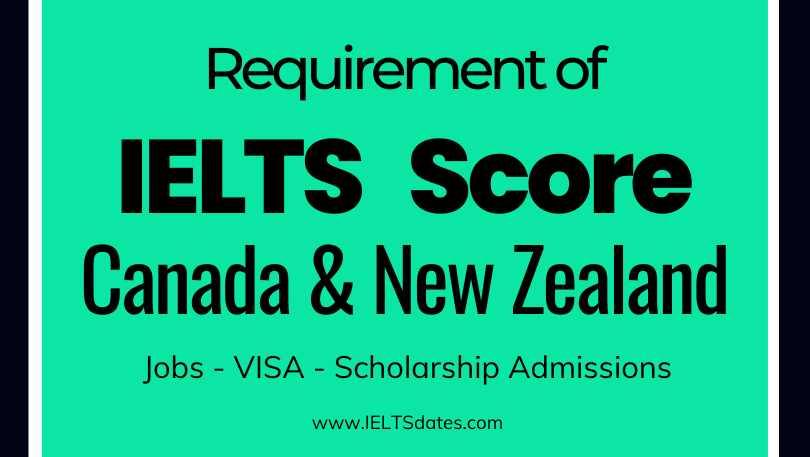 Hey if you are thinking of moving to Canada or New Zealand then one of important factor to consider is to check minimum IELTS band score requirement for Canada/New Zealand VISA and University admissions whereas most of Canadian scholarships and New Zealand scholarships also require their applicants to submit IELTS academic results but the question is how much IELTS band score is accepted for Canada as well as for New Zealand so for that lets find out in this article.
Minimum IELTS Band Score Required for Canada in 2023
As per Canadian immigration department the minimum requirement for IELTS score is 5.5 bands in each module of test and that also depend upon the kind of Canadian visa you are applying for which you can actually also cross check from Canadian Language Benchmark (CLB).
IELTS Requirement at Canadian Universities:
University of Alberta IELTS Requirement

: 6.5 Bands
According to Alberta university official website applicants need to have a score of 6.5 and not less than 6.0 in any test section moreover graduate students also need to satisfy the same requirement. However, it is noticed that the grad programs are flexible towards IELTS score requirements.
Queen's University IELTS Requirement

: 6.5 Bands
According to Queen University you must have a 6.5 IELTS band score for undergraduate program with not less than 6.0 in any section (Source) moreover, for graduate students minimum IELTS requirement is a 7.0 score in the IELTS exam. 
Minimum IELTS Band Score Required for New Zealand in 2023
So now if your objective is to look for skilled worker jobs, educational opportunities, or scholarship options in New Zealand then in their application procedures you will be asked to provide IELTS academic test results and you would be required to have a minimum of 6.5 bands in IELTS academic test and you also need to make sure to score 6.0 bands in each of 4 modules of IELTS test (Ref;IELTS.org).
IELTS Requirement at New Zealand Universities:
University of Auckland IELTS Requirement

: 6.0 Bands
Now lets check minimum IELTS band needed to apply for admissions and scholarships at University of Auckland so you will actually need a minimum of 6.0 bands in the IELTS exam with not less than 5.5 in each section, for a bachelor's degree. Moreover, Auckland university requires 6.5 bands for a postgraduate degree program with no less than 6.0 scores in each section.
University of Otago IELTS Requirement: 7.5 Bands
I know you might now be thinking that 7.5 IELTS bands is way too high to apply for admission/scholarships at University of Otago but this is because of the quality education and high university ranking. However you need not to worry because University of otago also accepts TOEFL test with minimum score of 102, or TWE test of 5.
Any IELTS Alternatives Accepted in Canada and New Zealand?
In case you think IELTS is difficult or expensive and you are not interested to appear for an IELTS exam then i have actually got a good news for you to take IELTS alternative English language proficicency tests which are also widely accepted in Canada and New Zealand. In case of Canada you can take IELTS alternative tests such as TOEFL, CanTEST, DET, PTE, and CAEL whereas for New Zealand you may take PTE, NZCEL, TOEFL, MELAB, CPE, PTE, or CAE.