IELTS
Your Options After Low IELTS Score in 2023 – What If IELTS Score is Not Good
What are your options in case you recently received a Low IELTS Band?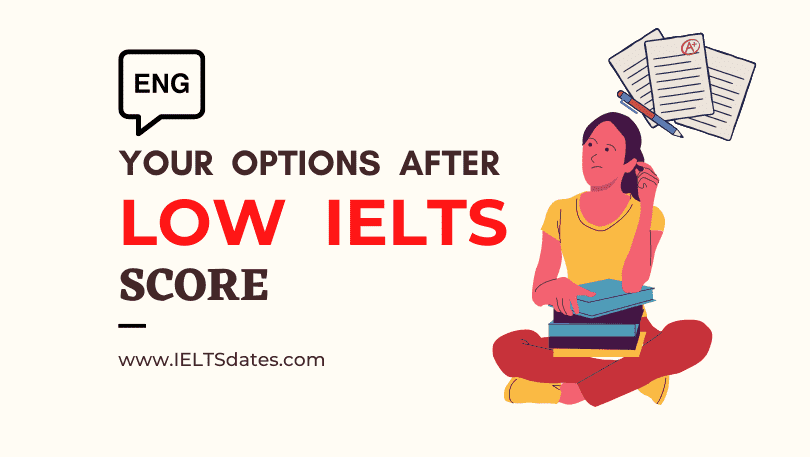 IELTS is a difficult and expensive English language exam and when we talk about IELTS academic module then its even more complex therefore scoring a good band score is always a biggest stumbling block for many of us. Let suppose we spent hundreds of dollars on this IELTS exam and we fail to achieve the results we wanted so now the question is if we can use that IELTS score somewhere as a salvage value?
The short answer is yes we can; since there are so many options available abroad which even accept low IELTS score applicants so we just need to find those opportunities and apply for them and the second answer would be to re-take that IELTS exam with more preparation but that option will cost us more because we will again be paying IELTS fees.
There are chances that your IELTS score is not enough to enter into your desired school or university and with that there are also such chances that your IELTS score would not be enough for getting a job program or that score needed for the immigration purpose into some country is higher than your obtained score. So, in these cases when your IELTS score is not enough then what to do lets find out here in this super helpful article:
Following we have listed some options in case you have recently got a low IELTS band score. Let's explore the options and ways to improve the band scores in your next attempt at the IELTS exam retake.
1 Book the IELTS retake the test (Not Recommended)
You can always retake the IELTS exam but you will be paying a high fee again and unlike most of the standardized tests retaking IELTS is very easy. As there are no restrictions placed by the British council or IDP on how many times you can retake their IELTS exam. Moreover, there are also no rules set for the time duration before you retake the exam and according to the IELTS official website you just need to register and sit in an exam to retake the test. 
However, this can not be the only option you have to improve your IELTS score. As there are many other options available. Let us look at them below. 
2 Take IELTS Alternative English Test such as TOEFL, PTE, Duolingo
Institutions that accept the IELTS exam also accept other language prolificacy exams as well. However, the most commonly accepted alternatives of IELTS which are TOEFL, persons PTE, duolingo, CAE etc. Now if you ask which test is easier then you can't have an exact answer. But there are people who find TOEFL somewhat easier than IELTS, so, if you are not having a good IELTS score then you can also look into giving a PTE, TOEFL, or duolingo english exam. 
Apart from this, there are also other exams you can give and the number of universities accepts Eiken which is an exam for English proficiency which can be taken in Japan. People belonging to Japan mostly find Eiken easier than the exam of IELTS. This is mainly because the testing instructions are given the Japanese language. Additionally, TOEIC can also be an option for you. However, if you are giving the IELTS exam for the purpose of work than there are many people who also take other English certificates from Cambridge. 
3 Ask for acceptance from University Accepting Low IELTS Score
If you are having a bad IELTS score (Such as anything below 6 bands) then there are chances that some universities may still accept you and this is because there are some universities that accept students with low IELTS score as well. Moreover, chance of this is possible when you are having a strong academic or professional background and if you are interested then i would give you a hint to look for Chinese Universities which offer Chinese government scholarships, or consider applying for admissions in Japan on MEXT scholarships.
Additionally, sometimes university accepts students conditionally which allows the students to study their desired course in a university with some additional courses in English. So, if to know about this you must contact the university and have all the information. 
4 Apply to other University with low IELTS Score requirement
If your IELTS score is not up to the standard of your desired university then don't panic. As there are many different universities out there that may take you. Moreover, the requirement for IELTS varies from school to school. If you are being rejected at one campus there is a probability that the other university considers your score perfectly acceptable. A bad score of IELTS cannot be bad for everyone. 
5 Options for a Low IELTS score for work or immigration 
The IELTS requirement for the purpose of immigration is difficult to find out as compared to the requirements of universities. So, if you are not having a good IELTS score as compared to the standard set by the immigration offices then the simple way is that you resit the exam. 
However, like for the universities you also have different types of options to work through for immigration purposes if your IELTS score is low. 
6 Search for other kind of VISA with low IELTS score requirement
There are chances that you have an IELTS score which does not match the criteria needed to attain a certain visa. But there is always the option that you can apply for a different visa, meeting your IELTS score. 
For example, for a Skilled Migrant visa of New Zealand, you need to have a 6.5 band in the IELTS exam. Consider that you don't have a score of 6.5 but you have a spouse who can have such a score. Then your spouse can apply for the Skilled Migrant visa and you can apply for the spouse dependent visa. As the spouse dependent visa only requires you to have a 5.0 band. On the other hand, you also apply for an Essential Skills work visa in New Zealand, as this type of visa is flexible in terms of the IELTS requirements. This type of visa depends upon the job and skills you have. 
This was just one example to go to New Zealand if you have a low IELTS score. Moreover, there are many other ways to get a visa when you have low IELTS score. Similarly, other countries around the world also have different requirements for IELTS. You can always find the alternative requirements of IELTS for visa purpose in any nation which accepts the IELTS exam. 
7 Appear for an alternate Easy English Exam 
As mentioned before, you can always give alternative exams if you are not having a good score in IELTS. For example, recently Australia has started accepting the scores of TOEFL for immigration purposes. Similarly, the USA accepts the TOEFL scores for medical professionals. Moreover, for the immigration into Canada, the scores of IELTS or Canadian English Language Proficiency Index Program are accepted. So, they were a few examples. If you are not having a good IELTS score than you can always take another kind of exam to give proof of language proficiency. 
In case you have a Very bad IELTS exam score then consider reading the following:
Always keep working hard to get a good IELTS score. 
If you are having an IELTS got a score of 5.0 then obviously you need a better proficiency in English in order to study at a University. We have prepared a detailed guide which will definitely help you to improve your IELTS test score in the next retake. Moreover, if you are having a band 4 or low then it is very less for the purpose of immigration visas. So, if you are having such a lower band than you are not ready to retake the IELTS exam. So, in this case, you really have to have a good preparation for IELTS if you want to achieve good bands in IELTS exam.