IELTS
Good VS Minimum IELTS Band Score Calculations in 2023
How Many IELTS Bands Are Considered Best?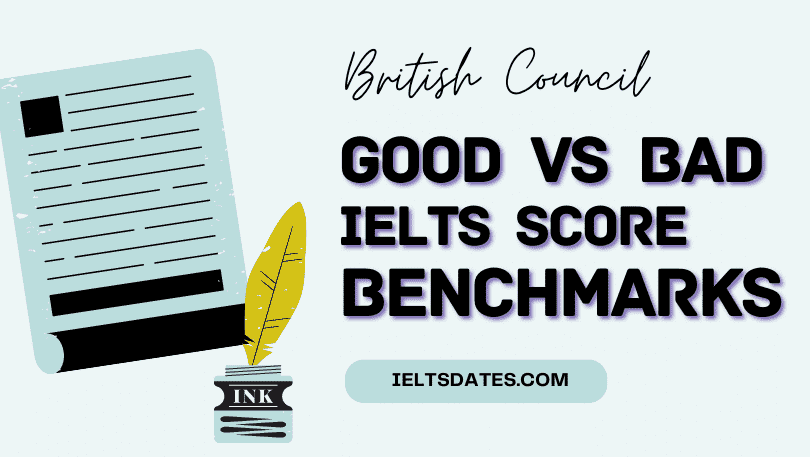 You should know that a good score of IELTS test is required by a variety of Universities, immigration offices, and organizations to check the applicant's proficiency in English language for different purposes including scholarships, admissions, immigration, and job hiring therefore in order to prove your proficiency in English language you must know how much IELTS score is considered good?
If you are giving an IELTS exam for purpose of immigration then a good IELTS score would be required whether you are applying for a business/work/study visa. So, in this article, we will help you to get familiar with everything about the good score benchmarks for IELTS exam for most international universities and immigration offices in 2023.
What is Considered as a decent IELTS score in 2023?
IELTS exams are measured in terms of band scores from 1-9; where 9 is considered as expert level and score of 1 band is given to someone with zero English language proficiency. So to know the answer about a decent score in the IELTS exam lets have look at the official description by the British Council of different types of IELTS band scores so you may have a rough idea of it:
| | |
| --- | --- |
| IELTS TEST BAND SCORE | SKILL LEVEL |
| IELTS Band Score 9 | Expert |
| IELTS Band Score 8 | Very good |
| IELTS Band Score 7 | Good |
| IELTS Band Score 6 | Competent |
| IELTS Band Score 5 | Modest |
| IELTS Band Score 4 | Limited |
| IELTS Band Score 3 | Extremely limited |
| IELTS Band Score 2 | Intermittent |
| IELTS Band Score 1 | Non-user |
So according to the above IELTS Score table, if you have a score of 9 bands in the IELTS exam then you are considered as an expert however, if you have a band of 8 then you are considered very good in the English language and so on.  
Score in IELTS exam ranges between 9 and 1 which means expert to non-user moreover there is also a score of 0 which means you haven't attended the exam. In the IELTS test each section of the test such as speaking, listening, reading, and writing is scored in this band range so that you also have an overall score of the test by averaging the score of each section and this score is known as a composite score which tells the overall ability of the candidate in the English language. 
How to find my IELTS band Score in 2023?
If you want to know your exact results of IELTS then you should start having the practice test for IELTS. In this way, you will learn where you have to focus in order to get a good band score. Moreover, you can approximate the scores and know what will you get as a whole IELTS test score.
Meaning of the IELTS Band Score 
From the above-mentioned information, you know how a band in IELTS is calculated. But do you know what they mean? How can you say that your IELTS marks are a good one or not? 
The table below compares the scores of IELTS with TOEFL. Moreover, in the right column, the bands of IELTS are compared with the levels of English in CEFR. (Common European Framework of Reference for Languages).
CEFR is most of the time used for purposes of immigration. Moreover, sometimes it is also used for levels in courses of English education. The levels of CEFR begin at two levels of A and that is A1 & A2. This is the basic ability in English and a high level of basic ability in English. The succeeding levels are B1 & B2 which demonstrates the independent and extremely independent usage of the English language. Lastly, the levels which are highest are C1 & C2 which shows proficiency in English and highly advance proficiency in English.
IELTS
SCORE
TOEFL
SCORE
RANGE
CEFR
LEVEL

9

118-120

C2

8.5

115-117

C2

8

110-114

C1

7.5

102-109

C1

7

94-101

C1

6.5

73-93

B2

6

60-78

B2

5.5

46-59

B2

5

35-45

B1

4.5

32-34

B1

0 to 4

0-31

A2 (IELTS Band 4)




A1 (anything below




IELTS Band 4)
Top Universities with their IELTS Requirements for Admissions and Scholarship applications
IELTS score requirement differs at afferent universities. Below let's have a look at IELTS score requirements by the top universities so that you may have an idea about what score you need to enter in the highly prestigious institutions. 
#1 Oxford University IELTS requirement
In order to get admission to the oxford university, you need to submit the IELTS scores meeting two requirements such as high-level scores or the standard level scores. Scores of the standard level at the oxford university for undergraduates is 7.0 in an entire IELTS test with a least of 6.5 bands in the individual section. The standard IELTS score is needed to enter the undergraduate programs such as Computer Science, Mathematics and 
Computer Science, Mathematics, Biomedical Sciences, Mathematics and Statistics. Apart from this, all other programs at the undergraduate level need a high band score of 7.5 in an entire test with a least of 7.0 score in each section of IELTS. 
However, for more information, you can always visit the official website of Oxford University. On the other hand, people who want to apply for a post-graduate program also have to follow the above-set criteria for the IELTS score which should be a higher or standard score. 
#2 Cambridge University IELTS requirement
According to the new information, Cambridge University requires a 7.5 score in the IELTS test for the Undergraduate programs. According to this, you must have an entire score of 7.5 bands and no less than 7.0 bands in any section. However, for the minor requirement differences, you can always check the website and know what is the requirement for the undergraduate program you are interested in. Moreover, the IELTS requirement for the graduate programs varies from program to program. So, for this purpose, you may have to visit the official website to know what score you need in order to get the admission. 
#3 Massachusetts Institute of Technology (MIT) IELTS requirement
According to recent data, MIT accepts TOEFL scores at the bachelor's level instead of the test score of the IELTS examination. However, in the graduate programs, MIT sometimes accepts the IELTS score only. For example graduate program of Media Arts and Sciences accepts IELTS only. Anyhow, for the exact information, you must check the official website.