IELTS Speaking
IELTS Speaking Questions With Answers-Part 1
IETLS Speaking Section-Part 1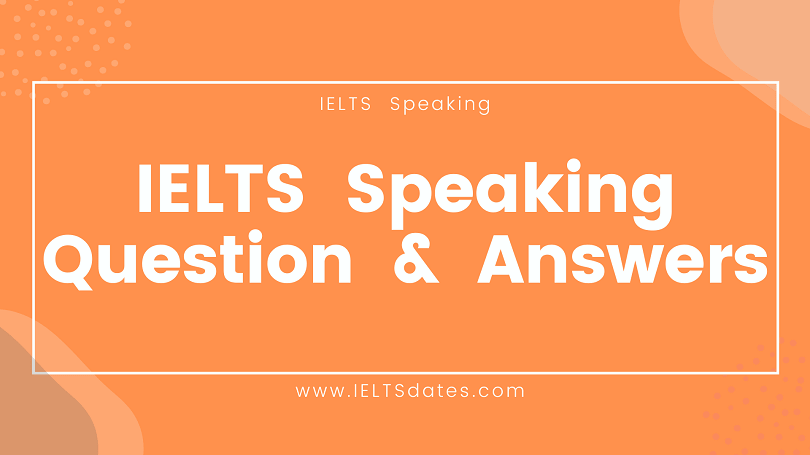 In the speaking exam of the IELTS, the examiner tests your speaking skills of english language. You have to be very fluent and have to answer the questions very confidently so that you can get a good score.
In this article, we have provided you with the example topics and their model answers so that you may have an idea of how to respond to a particular question. However, keep in mind, that these are just the example topics and example model answers. You can always change your answer to the specific question according to your wishes.
On the other hand, keep in mind that while reading the example answers you don't have to memorize them. If you memorize the answers and speak those in front of the examiner, then you will lose marks. This is because the examiners are trained in the way that they can always notice you speaking such scripted answers. However, if you by chance get the same topic then you should speak very confidently that examiner is unable to detect your scripted answers.
Anyhow, in the examples given below, we have presented you with the common topics that may come in the IELTS speaking part 1 exam along with the model answers.
#1 Hometown IELTS Speaking Question & Answer
At what place your hometown is located?
My hometown is located in Vietnam whose capital city is Hanoi. This capital city is situated in the country's north side. Moreover, it is not much far away from the border of southern China.
What activities can be done at your hometown?
You can do a lot of activities and can have a lot of fun in Hanoi as it is a huge city. if you are a person who likes to go out then you can certainly go to the restaurants at night and you will definitely enjoy the food there. Moreover, if you are into the cultural activities then there are different galleries of art and museums which you can visit and get mesmerized from them. On the other hand, if you are fond of nature then there are many places in the city which you can visit and enjoy nature.
What type of people lives in Hanoi?
People in my hometown are very friendly, but outsiders sometimes perceive them as anti-social. However, this is not the case because people are very busy due to which they don't chat or speak much to outsiders. Anyhow, if you live there then you will probably find people friendly once you start talking to them.
#2 Studies IELTS Speaking Question & Answer
What kind of studies you are doing presently?
Currently, I am studying the course of history at the university. The course I'm taking is of four years and I am already done with the three years. So, you can say I'm in the final year of my bachelor study.
What things do you love about studying history?
We have been taught many things about history such as wars, politics, etc. But I have always loved to study the way people use to live in the past. It is so wonderful to see how mankind has changed its way of living over the years. However, there are ways in which living has become very easy but there also some factors which have made living difficult. So, I just love learning about all of this.
What are your future aims?
To be very honest, I don't know yet. But maybe I will do teaching as I like to teach and transfer knowledge to others. Moreover, this is the very reason for which I'm giving IELTS as I want to do my masters in a particular area of history.
I am working as a manager at the office and deals with things for a big marketing company. I have been doing this job for around four years. Moreover, I usually get assigned to work on improving sales by applying the different strategies of marketing.
Do you work in a group or alone?
Yes, I work in a group. I have a big team in a big office whose main purpose is to achieve the desired results. I have to communicate with the graphic designers and also have to administer the staff working under me. Additionally, I also need to work with other companies for which we offer marketing. So, definitely, I work in a group.
Will you change your job in the future?
Well, at this moment I don't think I'm planning to change my job as I am enjoying my work very much and the company is paying me well too. Moreover, the company also gives bonuses and is flexible with timings. But having different experiences is always good. So, yeah maybe in future I'll want to have a different and new exposure.
What are your activities when you are free?
I am very fond of sports. So, whenever I get the time, I try my best to play football. I usually go on Wednesdays at night and also on Sunday at the afternoon time to play a football match with a team that is local. Additionally, I also sometimes play squash and tennis because I also like these sports.
Have your activities transformed in recent years?
No, they have not changed a lot. As I said before that I am fond of sports and I am in love with it since my childhood. I used to play at school and at my college also. Moreover, I have also won medals in sports.
Do you spend your time with people or alone?
I would say that I am very moody and it all depends upon my mood that how I want to spend time. Sometimes when there is a lot of workload and I am feeling stressful then I prefer to be alone. On the other hand, when I am having a good mood I always like to go out with friends and family to have fun.
Do you love train rides or not?
Yes, I love traveling by train. I have been traveling since my childhood in trains as I used to go to my grandmother's house during summer vacations. It was always exciting and adventurous. I still, like it because traveling is very comfortable in train. You can do anything like read a book, watch a movie, do your office work or just sit and watch the views outside the window.
At what place you prefer to go by train?
I usually prefer to go on a long trip by train when I have to meet my friends or have to go to some appointment. While when I have to go somewhere near then I like to use my own car for traveling. Trains are always suitable for long journeys as they make you feel comfortable and you don't get too tired.
When was your latest journey through train?
Amm… I am not sure. I think it's a while ago when I visited my old school friends. The journey was very memorable as I decided to go to the northern areas. It was a 5 hours journey which I spend reading a book and watching beautiful views outside the window which mesmerized my eyes.
Actually, I am not good at that. I am a very lazy person and that is maybe the reason because of which I am unable to manage the time on most of the occasions. I prefer using the mobile app which manages the time for me and updates me when I have to meet the deadlines or something else which I have to do.
What is your strategy when it comes to managing the time?
As I mentioned before that I am not good at managing time. So, I prefer using the mobile app which updates me all day long. I make my timetable on the mobile phone application and also posts the deadlines which I have to meet. So, whenever there is time to do something, my mobile app gives me the notification and I get alert for whatever I have to do. I can say it is the lifesaver for me.
What are the events when you have to manage your time most importantly?
I have to manage my time most importantly when I am at work. As I am the senior officer and I have to manage things so, they can run smoothly. Apart from this, when I am out of the office then there is less pressure and I can meet my friends and family members without any deadlines.
What types of books do you read?
I like reading biographies. I don't know the reason but yes, I found them very interesting to read. As people have written about their lives, their problems and how they have solved them. I also sometimes read fiction books as they take you into the fantasy world. Moreover, I also do read books on current affairs.
Are your book choices the same as in childhood?
Not really. I don't use to read books in my childhood. However, when I did then they were mostly fairytales or fiction books. Such as the lion, the wardrobe, the witch, cinderella, snow white, etc.
What is the best time to read a book?
Any time is fine when I feel like reading and able to concentrate. I can read a book during a bus or train ride. Moreover, I always like to read in my leisure time. So, whenever I'm free I read a good book. Anyhow, I prefer to read a book before sleeping because it helps me sleep.
Are there art galleries at the place where you have your residence?
No, I don't think so. Actually, I live in a town which is very small so maybe this is the reason that there are no art galleries. However, we have museums and cultural institutions. Anyhow, in the capital city, you will find may art galleries.
Were you fond of going to the art galleries in your childhood?
To be very honest, I was never interested in seeing art. I remember going on a trip to an art gallery during school times when I was young. There were very nice paintings made by famous people. It was good to see but I haven't visited the art gallery since then.
Should people pay to visit art galleries?
I think yes people should pay. This is because it takes money and effort to create some art. Additionally, it also takes money to maintain the art gallery. So, one should pay while visiting them even if it's a small amount of money. Moreover, if people will pay then artists will also get encouraged and will also produce more art for people who love to see it.
Yes, I certainly can swim. I learned swimming when I was very young of about 8 years of age. I used to take the swimming lessons from my instructor at the school as it was a compulsory thing to do.
Are there places for swimming somewhere near you live?
Yes, fortunately, there are a lot of swimming pools near my residence available to the general public. In the sports complex, there is a huge swimming pool indoor. On the other hand, there are also outdoor swimming pools but in winter season you can't use them
Should everybody learn how to swim?
Of course yes. It is very important to know about swimming. It can save you during the flood situations as you can save yourself and your loved ones. Moreover, you stay healthy as it is a full-body exercise. Apart from this, it is so much fun to swim. You can go to the beaches and pool parties whenever you want with your friends or family and can have a lot of fun. However, if you don't know how to swim then you will certainly miss the fun.