IELTS Speaking
Questions With Answers IELTS Speaking Section Part 2
IELTS Speaking Test -Related Questions And Answers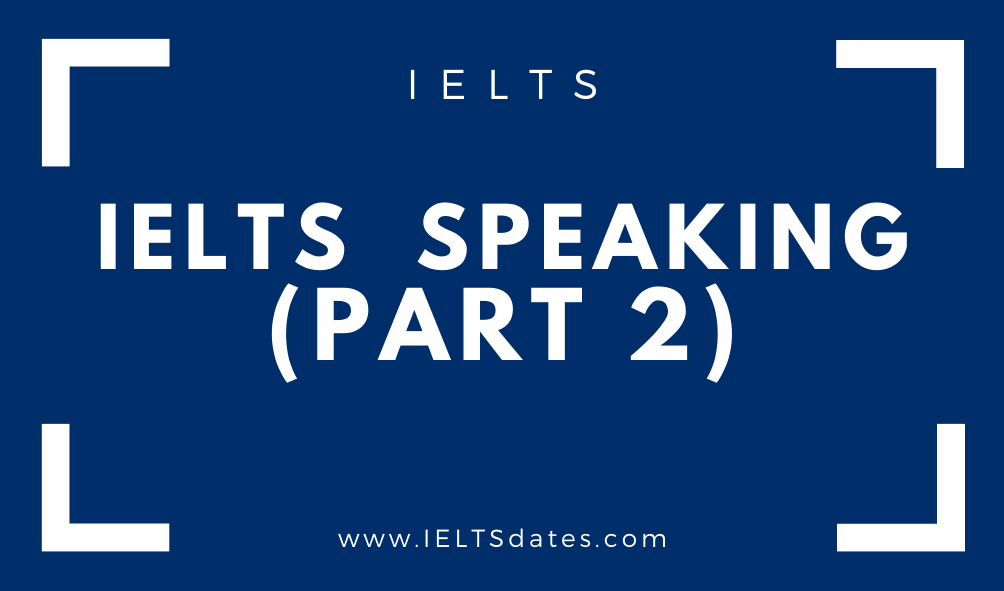 In the IELTS speaking exam, the second part consists of speaking on a certain topic which is written on the cue card. On this topic, you need to speak for two minutes exactly. Moreover, you can also plan your answer on the paper as paper and pencils are provided to you.
Additionally, the cue card also has different points given related to the topic on which you can plan your answer. But of course, you have to add information to the points according to your experience and thinking.
In this article, there are example topics given so you can have an idea that what kind of topics can come in cue card. Along with the topics of cue card the answers are also provided with the proper introduction and the conclusion. However, you must keep in mind that these are only examples and you have to remodel your answer according to yourself.
1st Cue Card IELTS Speaking Exam: Give a description of a gift you gave to someone.
You must say:
To whom you gave the gift?
What was the present like?
How is it different from other gifts you gave?
Elucidate that why you gave that gift?
Example Answer
I will talk about a gift I have given to someone.
I gave the gift to a friend who was very dear to me. He belonged to India and he had a name, John. He became my friend during the studies at the language school situated in Cambridge. We both belonged to very different cultural backgrounds because of which we were very interested in knowing each other. Moreover, we were also having the same interests in the things which made us good friends.
The gift I gave was the picture. It was painting the Cam river in Cambridge. However, it was not so big as it was only 14 inches by 11 inches, but the picture was extremely beautiful. The frame of the picture was gold plated and it was beautifully painted by the well-known artist of Cambridge. Additionally, the artist has also signed the picture. I gave this gift for the first time to John and it was very different from the gifts I gave to anyone before. Whenever I bought gifts for my family, they were some clothes or jewelry but never a painting or a picture.
There was a specific reason because of which I gave that present to him. The reason was that we use to go a lot on the river Cam for having a picnic and fun. So, I thought that this painting would be an appropriate gift. Every week we had a picnic at the river Cam. We used to sit by the river and use it to soak the sunlight. We also had a boat trip and have taken many photos together so that they can remind us of the memories we have spent together.
So, I gave the special gift to my very dearest friend, and I thought that the gift would bring him all the memories back which we have spent together.
2nd Cue Card IELTS Speaking Exam: Give a description of the person who is old and you know him.
You must say:
What type of relationship you have with that person?
Do you visit them often?
What do others think of them?
Elucidate why you love them?
Example Answer
So, I will describe a person I know and he's old too. The name of this person is David. He owns a small store near my house. The relationship with this old person is that he is my very dear friend. I am familiar with him because he has very nice things at his store and it is also near to my home. He is a very kind, friendly and generous man. We are friends for six years and he has been very nice to me. I can certainly call, he is my very good friend.
I do go to visit him very often. I usually get my groceries from the supermarket in the town nearby. But when I have to buy some small odd things which I need such as some snacks, milk or other things I go to his shop. So, you can say that I visit him every two days as I just have to walk to go to his shop.
David is a popular person. He is running the shop for so many years and people around know him very well. Whenever people go to his shop they have a very good chat which makes the mood very good. Moreover, people also like him because he also gets involves in community work. For example, he helps other old people, try to run some quiz in a pub nearby and also gives charity to the hospitals.
I love him because he is very kind and I always feel good when I talk to him. For example, sometime back, I was going through some problems and was very depressed and stressed. I wasn't having a talk with my friends and family. One day I went to his shop and there I had a chat with him. He listened to whatever I said and also gave me advice about how to solve my problems. Moreover, his smiling face gives you a sense of hospitality and his kind voice makes you want to talk to him.
3rd Cue Card IELTS Speaking Exam: Tell about a childhood event which was a happy one.
You must say:
When did it happen?
Who else was involved in it?
What were your feelings?
Elucidate the reason for your remembrance.
Example Answer
I will tell you about the happiest event of my childhood. My 13th birthday was the happiest event in my life. I had my 13th birthday around ten years ago. I was born on the 7th of June. I was given a surprise birthday party. My parents took me to a theme park which I had never seen before. There all arrangements were made about the décor before. There were a lot of balloons, a beautiful cake, games, a clown and so many things to have fun with.
Every family member of my family was involved. My brother and my sister went with my parents to the party. Additionally, my grandparents also came with my uncle and aunt along with their kids. My cousins had the best time having rides and a great dinner.
The theme park had so many rides that were worth having, I had a ride on the roller coaster which was very scary but gave us so much fun. The other thing which I remember the most was a ghost train. I had a ride on it with my elder sister and the cousins. However, my younger sister was not allowed to sit on it because she was very young and she got really jealous of me. A ghost train was made very realistic as the ghosts were shown as they were real and they would come out any time to make us scared. We got scared many times.
I remember I was very excited all day and when I saw that my parents had thrown a party for me I felt very loved. Moreover, I was enthralled while having rides such as roller coaster and a ghost train. The reason I liked going to the theme park was that I was longing to go there for so long and I also wanted my cousins to be there with me. So, it felt so good when I found that I am at the theme park and I am also having my cousins with me on my birthday. Moreover, the other reason is that I had my whole family with me because my parents were working parents and they used to be very busy on normal days.
So, yeah these were the reasons why I remembered the event till now as I can never forget the happiness I had.
4th Cue Card IELTS Speaking Exam: Tell me about some kind of environmental problem your country is facing.
You must say:
What has caused this problem?
What are its effects?
What measures are taken to overcome the problem?
Elucidate why this problem needs to be solved immediately
Example Answer
Ok, now I am going to tell you about the environmental problem my country is facing. The serious environmental problem in my country is flooding. It happens every year. Additionally, every year it gets worse and worse. There could be many reasons for the floods. For example, deforestation can be one of the causes as people are cutting the trees continuously without thinking of the consequences. When the rains happen, the water goes into the town and villages, running down through the mountains. Moreover, the other factor can be of global warming. According to the scientific research changes in the weather are also causing the rains frequently which leads to the floods.
Unfortunately, floods have caused drastic effects in my country. As I mentioned before, the bulk of water coming from the mountains goes into the towns, villages and even the rivers which cause them to overflow. Many people get homeless because of these floods and many of them die as well. The flood travels all along with in the country until it reaches its final destination which is the sea. During this course, it also affects the cities which come in between. Furthermore, it also causes a burden on the economy as the government has to compensate for the destruction caused by the flood.
The government is doing its best to solve the problem. Anyhow, it is not an easy task. The government has taken the initiative to stop the deforestation and is trying to plant more trees so that the problem can be handled. Some defenses along the rivers have also been built so that the rivers don't overflow. Additionally, the government is trying to enhance response systems. This is because in some of the towns and villages there are no organizations that can tell people in advance about the floods so that they can get prepared.
According to me, it is most important to solve the problem of floods in my country as it has already caused so much destruction that God knows what it will do in the future. It has caused so much suffering to people and has also burdened the economy of the country. Anyhow, there are many other problems that exist in my country but this one is on the top of the list I believe.
So, this was a serious environmental problem in my country. I pray and hope that it doesn't cause much more destruction in the future.