IELTS Speaking
IELTS Speaking Questions with Answers-Part 2
Example of IELTS speaking questions and Answers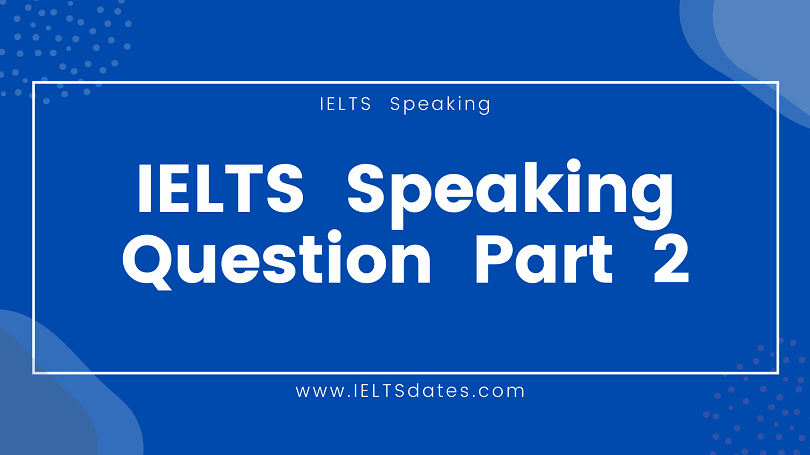 In the second section of the IELTS speaking test, you are given a cue card. On this cue card, you are given a topic on which you have to speak for two minutes. But make sure that you can't change the topic according to your comfort or wish. Moreover, in this part of the test, you are also given a pencil and a paper on which you can make points to plan your answer.
However, in the cue card, you are given some points on which you can speak. But you also need to add some information to those points. Anyhow, you have to make sure that you finish your answer in the given time.
In this article, we have given you some example topics and their answers which may come in the cue card provided to you on the test day. We have provided a proper introduction and the proper conclusion to the topic in the cue card. However, you must know that these are just examples given in the article. The original topic can be different in the exam.
Long Turn Samples in the IELTS Speaking Test Part 2.
Some examples of IELTS Speaking Test models are as follows:
#1 Influential Person IELTS Speaking Example
Tell about someone who had influenced you in your life?
You must say:
Who that person is
For how long you have recognized her/him
What type of attributes does him/her have
Elucidate why are you so much influenced by them.
Example answer:
So, now I will tell about the person who had influenced me a lot in my life.
The person who has influenced me is my father. As I am 23 years of age so it obvious that I know him for about 23 odd years. I still live with him together with my mother, sister and brother.
I am influenced by him because he has so many qualities. One of them is that he is very ambitious and has achieved so much in life. My dad started his career by working in the building company. At that time, he thought to get the professional qualification and he started having the classes in the evening time so that he can qualify for a surveyor. Anyhow, having the professional qualification took so many years but later on, he got it and worked as a surveyor for the same company he was working before. My dad worked so well for the company that later he became one of the senior partners. Recently after some years of becoming the senior partner for the company he has also started his own business. So, my father now has a company of his own and he has also recruited other people in his company. Therefore, I am very proud of my father and I take him as the person who has influenced me a lot. Additionally, I love him because of his personality. He is a very humble, kind and generous guy. Even though my father has a lot of achievements but he has not got proud.
The other reason why he has influenced me is the way with which he tries to help needy people. There are many needy people in the community and they need the support of others to get better financially. So, my father donates a large amount of money to the people around through charity and also try to help homeless people on the weekends or whenever he has time. Seeing him helping others has motivated me to help needy people. I have worked at the organization whose purpose was to help the orphaned children. Additionally, the reason for giving IELTS is that I want to have an international development degree. This is because I want to learn how the process of development should be done to empower people in developing countries. Furthermore, I would want to work for an international NGO in London or some other place. Anyhow, I also know that if I get some job then my dad would be very happy and he would want me to help other people.
So, yeah it is my father who has influenced me the most. And the main reasons are that he is a self-made person and is always ready to help other people.
#2 TV Show you Enjoyed IELTS Speaking Example
Tell about some TV show which you like most
You must say:
What kind of show is this
How regularly it is on air
Is it popular in your country
Elucidate why you love the show.
Example answer:
So, now I will tell you about the TV show I love. This show is none other than Game of Thrones.It is basically a fantasy drama and it takes you into the fantasy world. However, you cannot say that it is a real-life based as the content which is shown does not exist in the real world. The TV show is very dramatic as you will see a lot of fights and people get killed. Additionally, it has a feel of medieval nature and seems like historical fiction. Its content is basically on wars and politics which brings all the magic on the screen. Moreover, the story is taken from the book known as A Song of Ice and Fire. I actually remember the name of the book because I have read the book but I stopped reading it when the show became on air.
The show gets on air on the HBO channel and there is one series every year which mostly consists of the 10 episodes. The series has ended now with its 8th season. However, I have only watched 6 seasons of it because of my busy routine but I hope that I will watch other seasons soon.
The TV series is very popular almost in every country in the world. And it is possible that you will rarely find any person who has not watched it. All of my friends and family watch it. Additionally, I don't think that there is a more popular series than this before in the world according to the viewer ratings.
There are so many reasons why I love the series so much. It has so many storylines that are about the fictional continents named the Essos and Westeros. There are so many characters who are fighting for one throne. However, the major storyline is about the Lannister family. The family has two brothers and a sister. The interesting thing about the story is that one of the brothers and his sister are lovers too. The other main character in the story is the person named Jon Snow. While watching the series you will find that it also resembles the film named Lord of Rings. One of the other interesting things about the series is that you can never predict which character will die. It's always the one which you don't expect. Furthermore, you will also find that the series has got so much attention that it is also mentioned on other shows as well.
#3 Lake, River or Sea Example IELTS Speaking Example
Tell about a river, sea or a lake you have been to.
You must say:
What is the location of a sea, river or a lake
How many times you have gone there
What type of activities one can do there
Elucidate why you love this place.
Example Answer:
I will tell you about the sea I have visited. I visited the sea which is around Lanzarote island. It is a type of Canary Island. Island of this type is also termed as the Canaries situated on the ocean known as the Atlantic ocean near Spain. Moreover, including the Lanzarote, there are other six islands of such type. At the moment I don't remember all the names but some of them are Gran Canaria, Tenerife, La Palma, Fuerteventura and maybe La Gomera.
I have visited this sea many times because we have an apartment near the sea. It is my father's and we own it since I was a kid. We used to spend our holidays there. However, nowadays I like visiting it with my friends.
At the seaside, there are so many things one can do. You can always do the diving into the sea. However, I have a certificate of PAD-1 diving and because of this, I have divided many times into the sea. There are many other great dives in the sea. For example, it has a sunken ship. It was not actually a ship which sunk in real but it is done for the purpose of diving. Additionally, there are many other normal dives also. Furthermore, if you want to spend your time on the beach then you can hire the chairs there and can sit the whole day. Moreover, there are also bars there from which you can have the beer and enjoy it.
At the seaside, there is a very good restaurant which serves great seafood. We often go there to have squid or paella. Additionally, you can always hire speed boats or jet skies to have more fun. Moreover, if you are a surfing freak then you can always enjoy surfing there. One of the sides of the sea is very rough, so while surfing you need to be very careful if you are not good at swimming.
Anyways, so these were the reasons I liked the seaside so much. Mainly because of the activities which are offered there. Additionally, it is cheap as well and doesn't burden your pocket.