UK Scholarships
Fully Funded Chevening Scholarships 2022-2023: Open for Online Applications!
Study For Free in UK!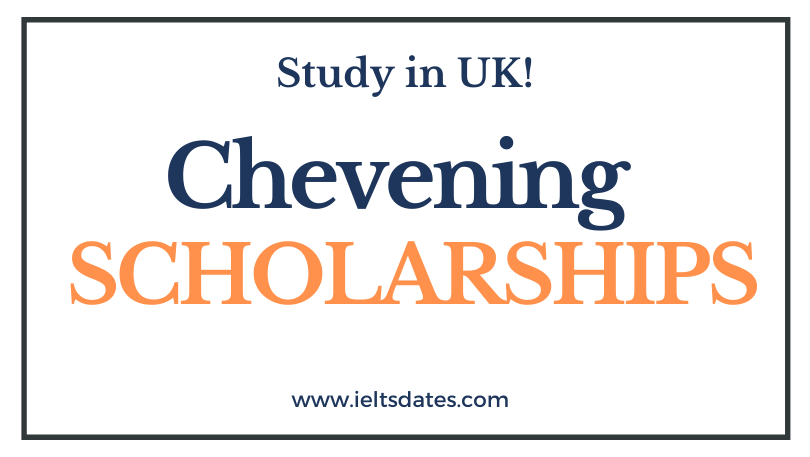 Fully-funded Chevening Scholarships 2022-2023 are one of the Best British Scholarships, offering full sponsorship for international students. Candidates can now apply online for Chevening Scholarships 2022 session. Chevening enables outstanding emerging leaders from all over the world to pursue one-year master's degrees in the UK. There is no such thing as a 'typical' Chevening Scholar, but those who are successful tend to have ambition, leadership qualities, and a strong academic background.
Chevening is the UK government's international awards program aimed at developing global leaders. Funded by the Foreign, Commonwealth, and Development Office (FCDO) and partner organizations, Chevening offers two types of awards – Chevening Scholarships and Chevening Fellowships – the recipients of which are personally selected by British embassies and high commissions throughout the world.
A Chevening Scholarship is tenable for 12 months only but may terminate sooner in circumstances where your course is less than 12 months in length. Chevening Scholarships may not be extended beyond 12 months unless there are exceptional circumstances.
Chevening Scholarships Coverage:
A full Chevening Scholarship normally comprises:
Economy travel to and from your country of residence by an approved route for you only.
The cost of an entry clearance (visa) application for you only.
An arrival allowance.
Payment of tuition fees.
A contribution of up to £75 for TB testing, where is required.
A travel top-up allowance.
A departure allowance.
A monthly personal living allowance (stipend) to cover accommodation and living expenses. The monthly stipend will depend on whether you are studying inside or outside of London. These rates are subject to annual review. Stipend payments will be made to you on or around the 21st of the month for the following full month. Where you arrive in the UK or leave the UK part way through the month, the stipend for that month will be adjusted as appropriate.
Eligibility Criteria to apply for Chevening Scholarships:
To be eligible for a Chevening Scholarship you must:
Have at least two years (equivalent to 2,800 hours) of work experience.
Return to your country of citizenship for a minimum of two years after your award has ended.
Be a citizen of a Chevening-eligible country or territory.
Have completed all components of an undergraduate degree that will enable you to gain entry onto a postgraduate program at a UK university by the time you submit your application. This is typically equivalent to an upper second-class 2:1 honors degree in the UK but may be different depending on your course and university choice.
Apply to three different eligible UK university courses and have received an unconditional offer from one of these choices by 15 July 2021.
Eligible Courses to apply for Chevening Scholarships:
You will need to select three different master's courses. These can be three different courses at the same institution or three similar courses at up to three different universities.
Choose your three courses carefully. You will not be able to change your course choices after submitting your application unless you are granted permission to do so at the interview stage. You will need to apply separately to your selected courses directly via the university. Please apply as soon as possible to ensure you get a place.
It is recommended to select three similar courses at three different universities to increase the likelihood that you will gain entry into one of them.
In order to be eligible, the courses you choose must be full-time, and:
Start in the autumn term (usually September/October)
Taught master's (i.e. not research-focused MRes programs)
Lead to a master's degree qualification
Based in the UK
Documents required to apply for Chevening Scholarships:
To make the application process easy and hassle-free, applicants must have the following set of documents available before applying for the Chevening Scholarships.
Chevening Scholarships Application Procedure:
Select the right master's course that you want to study from the website.
Use the online application system to apply online for the Chevening Scholarships from their website.
Remember your username and password. This saves time when you want to log back into the online application system.
Enter information accurately, especially your contact details. Please ensure that you enter a valid email address. If this changes after you have submitted it, please ensure you update it in your application otherwise you may miss important updates about your application.
Application questions have word counts. In the application form, there is a set of questions you are required to answer. The minimum word count is 100 words per answer and a maximum of 500 words per answer, so please ensure you meet these requirements. Answers that are less than 100 words will not be considered.
Save as you go! There is no automatic save function on the system and each session will close after 60 minutes, even if you are still actively editing the form. Any unsaved entries will be lost, so you are strongly encouraged to save regularly to avoid losing your work.
You do not have to complete the form in one session. Use the 'Logout' button (top right corner of the page) and keep a note of your username and password so that you can come back and finish off your application later. You will also be able to access your application via a link you will receive in an email.
Only submit your application once you're completely satisfied with it. When you are satisfied with your application, click the 'Submit button.
Deadline to apply Chevening Scholarships:
The deadline to apply for Chevening Scholarships is 15th July 2021. To apply online for the Chevening Scholarships, click here.
To visit their Chevening Scholarships official website, click here.