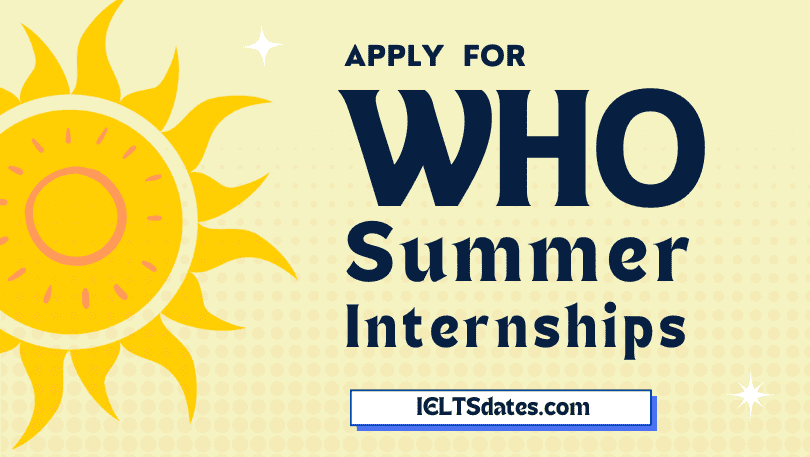 I wrote this informative article for all my students who want to make the most of their upcoming summer holidays by taking part in summer internship program of 2023 organized by World Health Organization (WHO) and its affiliated projects.
You may not know that these WHO summer internships are not just volunteer programs but the participants (internees) actually get paid salary, receive funds for travel, accidental insurance, and also get sponsorship for free meal at WHO sites so obviously you will not be wasting your entire summer holidays and would definitely try to participate in WHO internships and for that you need to read this article so you will find information on how to submit your application for WHO summer internships 2023.
Requirement of IELTS for Summer Internships at WHO
Hey the great news that i have got for you is that you do not need to appear for an IELTS exam because all WHO internship programs are exempted from the requirement of IELTS but that being said you may still need to appear for an interview and in that your English language proficiency skills may be evaluated which is why i suggest you to stay prepared for your interview at WHO for internships recruitment.
I also want to mention here that the internships offered by World Health Organization (WHO) have a duration of around 4 to 8 weeks whereas some of their summer internships also have an extended duration of 24 weeks and mostly what i have seen is that their top internees are actually offered with full time employment at the end of their internships.
How to Check your Eligibility for WHO internship program?
Now this is really important because i have been in HR for many organizations and have reviewed thousands of internship applications so i would like to mention that if you are not in your final year, or final semester then please do not apply for WHO internship program because these summer internships at WHO are actually designed for final year/semester students who are so near for stepping in professional employment world.
You must also know that the age of WHO internship applicants must also be over 20 years and have been enrolled in any degree program of subjects like public health, administration, medicine, law, human rights, management, and similar disciplines. Whereas, there are strict instructions by WHO HR that the applicants of their summer internship programs must also have high level of English or other language proficiency as per the station of internship program and the candidates from only certain countries on the panel of WHO will be entertained.
Lets Apply for WHO Summer Internships Now
I have got another good news for you at this stage if you are right candidate for any of WHO summer internships program because there is no application fee required for application submission and there is no specific application deadline for WHO internship because as WHO is operating at various global locations which is why so many internship programs are always open for recruitment throughout the year.
Therefore, i suggest you to scan your documents which are transcripts of attended semesters, statement of interest, resume (CV), and recommendation letters and then find a relevant WHO internship program and then submit an online free of cost application by creating your profile at WHO global interns recruitment page (Stellis).