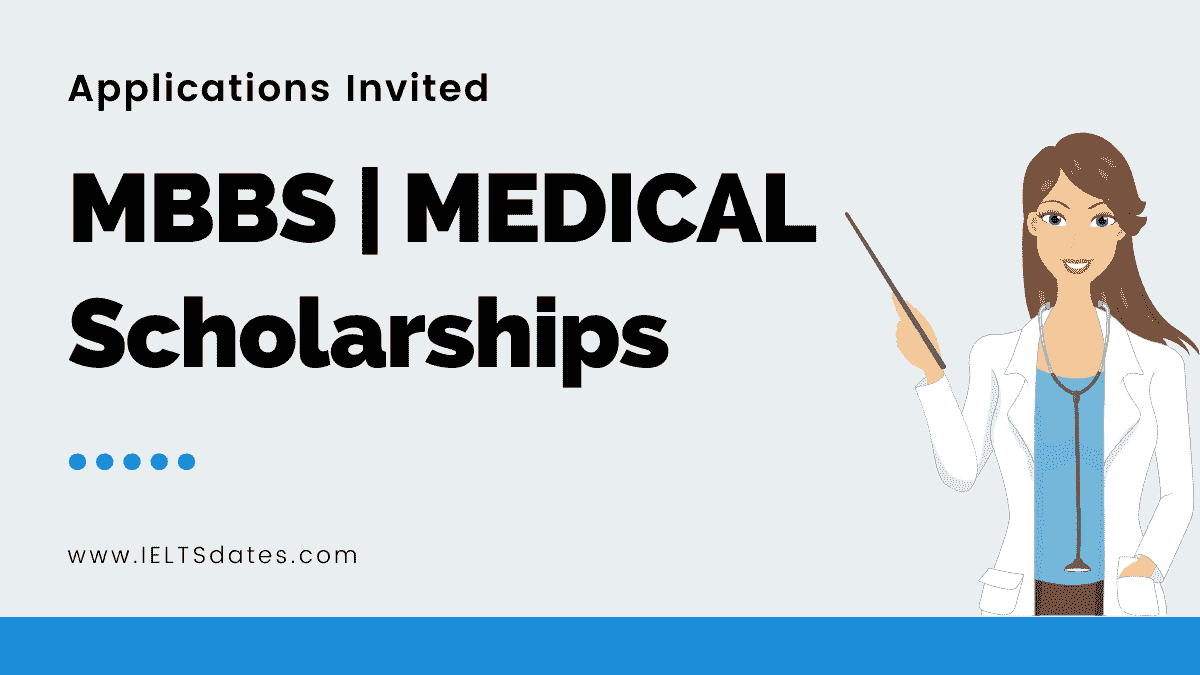 The fully-funded Medical and MBBS Scholarships 2022-2023 in various countries started accepting applications from international students already. Medical schools are expensive and getting a medical degree without a scholarship can require a lot of financing.
It doesn't really matter if you are studying from a public or private institution, the cost of a medical degree is still high. Students then usually resort to taking loans which causes them financial stress after their degree programs are completed.
List of Medical School Grants and Scholarships in 2022:
A great way to finance your way through medical school is to get a scholarship or a grant. Getting a scholarship means there is less money than you have to take in the form of a loan or in some cases none at all. To make things easier for you we have gathered a list of the best medical scholarships that are available around the world. 
BoardVitals Medical MBBS Scholarships
This scholarship is given every year to two of those medical school students who show potential to solve a critical healthcare problem and who have had high grades in med school so far. The student winning with the first position will get a $2500 scholarship and the student with the second position will get $1,000. It is only open to students from the USA. In order to apply, students have to submit an essay of 500 words or make a video explaining what they think the next healthcare advancement will be.
John Hamel MacGregor MBBS Scholarships
This award is being given to students from the University of Auckland who wish to study MBChB (which is the MBBS of Australia, New Zealand, and the UK). Students getting this scholarship can study for a research degree in Medicine and Health Sciences or can pursue a bachelor's in medical sciences. It is usually awarded to five students per year and the recipients will be eligible for the grant for a period of one year (they can reapply the next year in order to continue getting the scholarship).
University of Melbourne Baillieu MBBS Scholarships
The University of Melbourne is awarding two scholarships to students from the fields of commerce, economics, medicine, health sciences, criminology, and law. It is aimed at those students who are taking up research-based studies and are unable to bear their personal expenses. The total value of the grant is 97000 AUD. The award also has a relocation allowance which will be given to students from outside of Australia.
Tylenol Future Care MBBS Scholarships
Tylenol is awarding 35 scholarships out of which 10 are worth 10,000 USD each and 25 are worth 5,000 USD each. In order to apply students, have to submit two essays and their medical school results. They will be judged on the basis of their merit, the matter of the essays, and their level of involvement in community work. 
University of Wollongong MBBS Scholarships
The University of Wollongong in Australia is giving out scholarships to students enrolled in its medical and healthcare programs. The award will be given in the form of a tuition fee waiver which will be up to 50%. The minimum scholarship will be a tuition fee waiver of 10%. There are country-specific waivers as well which are restricted to students from developing nations. 
White Coat Investor MBBS Awards:
The worth of this MBBS scholarship is 1% of the total profit of White-Collar Investors. These awards are given in the form of cash, prizes, and textbooks and are worth more than $150,000. Students applying to this scholarship must be full-time students and should be from the fields of medicine, law, dentistry, osteopathy, pharmacy, veterinary medicine, and podiatry, etc. Students have to submit their basic information along with an essay of 800 words to apply. It is a very competitive award with a thorough judging process. 
(AMWA) American Medical Women's MBBS Scholarship Awards:
AMWA is awarding scholarships, grants, and awards to female medical students from all across the USA. There are a number of small scholarships available under AMWA and are reserved for registered members only. Among all such awards, one is a 500 USD award which is given to four selected female members of AMWA who are studying in any medical field at any degree level.
Another KAPLAN scholarship is meant to help the students in preparing for their annual USMLE and COMLEX exams. Anne C. Carter fellowships are aimed at students who are completing a project regarding the health hazards of the world.
Physicians of Tomorrow MBBS Scholarships:
This is one of the big scholarships that students can apply to. The number of awards is 10 in total with every award worth 10,000 USD. All of these awards are aimed at students with different skill sets but each applicant has to be in the third year of his/her medical degree, has to be recommended by his/her school's dean, and should submit documents like a personal statement, recommendation letters, proof of financial need and academic record of medical school.
ASME (stands for Association for the Study of Medical Education) is awarding scholarships and fellowships to medical researchers, students, and teachers. The awards are reserved for those Ph.D. and doctoral students, teachers, and students who have either completed some meaningful project in the field of medicine or are trainees or surgical consultants. The higher the experience of the applicant the greater the value of the award. The awards are meant to promote advancement in the field of healthcare.
Herbert W. Nickens Awards for Medical Students:
These scholarships will be given to five lucky students and their value is 5,000 USD per award. The scholarship will be given to those students who demonstrate leadership potential in eradicating discrimination in the field of healthcare, who are keen on providing equal healthcare to minorities and other races, and who have the passion to deliver medical education to people from diverse backgrounds.
Students applying need to be nominated by the dean of their college, have to have a recommendation letter and need to submit a personal statement in which they will describe their leadership efforts with examples.
Edith Seville Coale MBBS Scholarships Awards:
These scholarships are for those female medical school students who have maintained excellent grades through their medical education, are in the second or third year of their medical degrees, and are financially incapable of bearing their educational expenses. The value of each award ranges between 5,000 to 8,000 USD. Only a handful of medical schools in the USA are eligible to apply to this scholarship program.
USA Medical and Surgical MBBS Scholarship Program:
Under this US MBBS scholarship program, recipients will receive 1,500 USD every six months. Applicants should be studying at least one of the following subjects:
Social Sciences

Psychology

Psychiatry 

Pharmacy

Radiology

Pathology

Healthcare 

Nursing

Medical technology

Laboratory science

Therapy

Medicine or any other related program
The application procedure entails submitting an essay of at least 1200 words about how medical supplies and equipment help in healing people and saving lives. Students will be judged purely on the matter of their essays.
Harvard Medical School MBBS Scholarships:
The Harvard medical school offers a number of scholarships, most of which are reserved for students who are financially not strong enough to get through medical school. There are fully funded scholarship programs as well which cover tuition and other compulsory fees of students for up to 8 semesters. 
Another such award is the Dean's Reach Awards which is given to students who show compassion, excellence, and a passion to give back to society. It is also a fully-funded medical degree scholarship.

Merit-based MBBS Scholarships:
Medical students can also look into the scholarship programs offered by their own schools. A number of medical schools offer merit-based scholarships to students who have excellent academic records, high GPAs, and good scores in MCAT. These awards also take into account students' soft skills such as their visions for serving society, their personal traits, and other qualities. Agreeably most awards are only need-based but some schools offer merit-based scholarships as well. 
James "Rhio" O'Connor Mesothelioma Medical Scholarship Fund:
The value of this medical scholarship is 1,000 USD a month. Students have to submit an essay that will answer questions related to cancer. For example, should cancer patients and their doctors be able to use every possible treatment there is to treat cancer?
National Medical Fellowships:
These fellowships are reserved for students who are from a minority group that is underrepresented like Hispanics, African Americans, Latinos, Asian Americans, and Pacific Islanders. The value of each fellowship is somewhere between 5,000 USD to 7,000 USD. There are many different kinds of scholarships under this scholarship program like, Dr. James Curtis Scholarship, MD Scholarship, etc. the requirements of each scholarship are different but all of them take into account students' merit, their leadership capabilities, and their desire to serve those who are underserved. 
National Health Service Corps MBBS Scholarship:
This is a very generous award that commits to funding up to four years of medical education alongside giving a monthly stipend for personal expenses. Students are required to practice in rural and tribal areas (areas that have limited to no access to general healthcare) after graduation. 
Students are required to practice in underprivileged areas for the same number of years they got the scholarship for.
UCLA Medical School MBBS Scholarships:
These awards are purely merit-based and the applicants do not need to show their financial position in order to apply. Around 25% of students who have just enrolled in an MD program will get this scholarship. The better the academic record the higher will be the value of the scholarship. Students do not have to apply separately to this scholarship as they will automatically be considered to get one.
Universiteit van Amsterdam MBBS Scholarship:
The Amsterdam Merit Scholarship offered by the University of Amsterdam is for those exceptional students who are enrolled in a master's program in healthcare or medicine. the value of each award is 4,000 EUR which the students can use to pay for their educational expenses. 
Novo Nordisk Foundation MBBS Awards:
The NNF awards are for those experienced researchers who intend to do advanced research in the field of biotechnology and biomedical sciences. The whole fund is worth more than 25 million dollars. 7 million out of this fund is reserved for setting up experimental laboratories and research centers. The awards are given for up to seven years.
There is another scholarship also funded by the NNF which is for Ph.D. in Biosciences. It is a fully-funded Medical degree scholarship and is given for up to five years. 
Karolinska Institute of Sweden MBBS Scholarships:
The Karolinska Institute in Sweden is offering postgraduate scholarships to students who are enrolled in any master's level medical program. The award entails partial tuition fee coverage and will be given to ten lucky students. For coverage of the rest of the tuition fee and their personal expenses, students can look into other scholarships like the FIS fellowship which can cover the tuition fee for up to 200,000.
Imperial College Medical School MBBS Scholarships Program:
The faculty of Medicine at the Imperial College of London offers a number of scholarships at their BSc and MSc levels. Some of these scholarships are discussed below:
Martin Turner Award is worth 1,700 GBP and is granted for a period of one year.

Adrian Taylor Scholarship is worth 3,000 GBP and is also valid for a year.

Presidential awards are given for a period of four years and are worth 1,000 GBP annually

The Fleming Scholarships, in the form of tuition fee reimbursement, give out 3,375 GBP and are for two years.
King's College MBBS Scholarship Awards:
The social medicine and global health department at the King's College of London are awarding scholarships to undergraduate, graduate, and doctoral students. At the undergraduate level 3,000 GBP will be awarded to every recipient for three years (so 9,000 GBP in total). The graduate award is also worth the same i.e. 9,000 GBP and is given to students pursuing Master's in gerontology, bioethics, etc.
Wellcome Trust MBBS Scholarships:
Students interested in pursuing a Ph.D. in some healthcare field should apply to this scholarship. It is available for three years and the scholarship holders will also get a monthly stipend which can be up to 26,000 GBP annually (the amount of stipend depends upon which city you live in). In addition to that, the scholarship covers full tuition, research expenses, and travel expenses for attending medical conferences outside of the country of residence. Students from the EU, EEA, low-income nations, and the UK are eligible to apply.