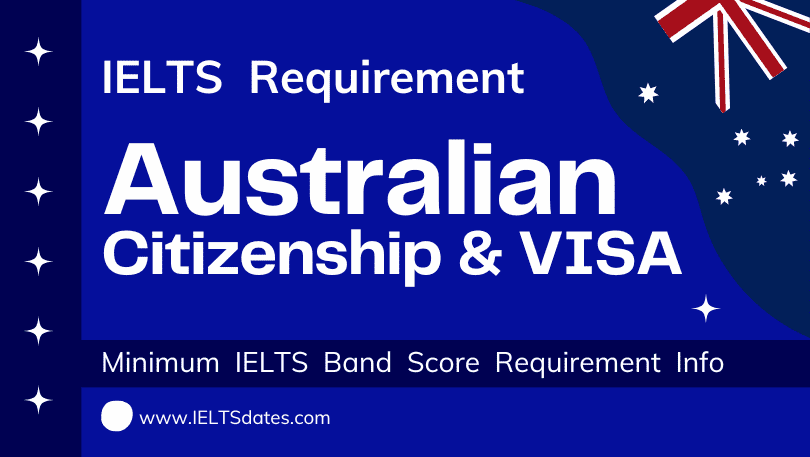 If your objective is to enter Australia for the purpose of studies, job or for settling down there and applying for Australian citizenship then you actually need to provide a proof of your good English language proficiency and that can be done by appearing in IELTS exam but your IELTS score must then be over the minimum required for Australian study visa, Australian Work visa or for any other Australian immigration requirements. However, each kind of Australian visa has different requirement for English language skills and following is basically the way in which the score of IELTS is measured up in 2023:
Functional

: A complete IELTS band of 4.5

Vocational

: Having a least of 5.0 score in each section

Competent: Having a least score of 6.0 in every section.
Proficient: The least score of 7.0 in every section.
Superior: Having a good 8.0 in every section. This is generally considered a good score.
BONUS!
Migration in the country of Australia is usually determined on a system of points. If you are a superior or proficient user of the English language then you may earn 10 0r 20 extra points which will make your application strong. 
IELTS Bands Requirements for Australian Study VISA in 2023
I understand that a large number of my readers are students who are interested to study in Australia but for that purpose you need to take an IELTS exam and that too in 'Academic' module and score at least 6.0 Bands in order to become eligible for admissions and scholarships in Australian and with that you need to make sure that in each section of IELTS exam your score must be over 5.5 bands.
IELTS Bands Requirements for Australian Work VISA in 2023
Now lets talk about my job seeker friends who want to work in Australia and soon be applying for an Austalian work VISA or Australian work permit and for that they will be asked to provide an IELTS score of 6 bands by home affairs department of Australia (Source Australian dept of home affairs).
IELTS Bands Requirements for Australian Citizenship in 2023
As per my research on applying for Australian PR you will again be required to score at least 6 bands in an IELTS exam for becoming eligible to submit your citizenship application at home affairs department of Australia (Source IELTS).
Some examples of IELTS Band Requirements in Australian Universities
1# IELTS Requirements at University of Sydney
There are different requirements for graduate and undergraduate programs however 6.5 bands is considered as the lowest IELTS score which can be accepted at university of Sydney, with a 6.0 band in each section. Moreover, other different graduates and undergraduate programs want a much higher score in the IELTS exam. 
2# IELTS Requirements at University of Melbourne
Here at University of Melbourne you may need a score of 6.5 bands in IELTS academic exam module with at least 6.0 in any of the sections for an undergraduate program and apart from this, the graduate departments require a different score. However, other graduate programs may want a score of 7.0 or higher in the IELTS exam. Anyhow, for more accurate information you can visit the official website of the university. 
3# IELTS Requirements at the University of Adelaide
In this university of Adelaide you may require the IELTS test band score of 6.5 and no less than 6.0 band in each section however requirements may differ from subject to subject and degree program to degree program so you better visit the official website of this Australian university in order to have more information about their English language requirements in 2023.