IELTS
IELTS VS OET TEST: Which is better and Easier for Medical Profession?
IELTS VS OET Exam for Medical Practitioners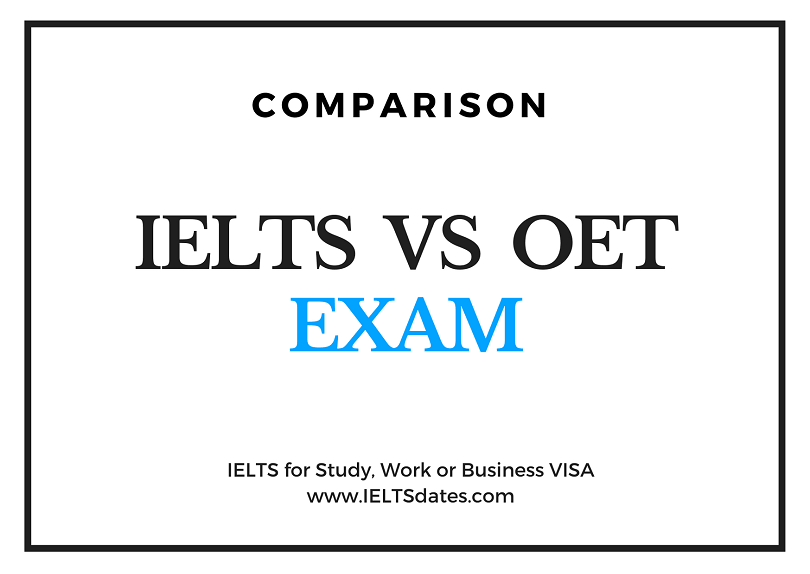 The tests of OET and IELTS both are accepted by the GMC and NMC for the proof of English language proficiency needed at the desired level. However, most of the people inquire that which test is better for them? And which one is easier?
To give you answers to these questions we have written this article so, you may have an idea bout both types of exams. Moreover, we have also compared the similarities and differences between the two tests and have also provided information about which one is easy. 
Similarities Between IELTS and OET Exam
Both of the tests are standardized English tests that test your ability in the English language and are recognized all over the world. Moreover, these tests assess the four language ability skills and that are listening, reading, speaking and writing. Additionally, in both of the tests, you are provided with the test score which depicts your ability in the English language. 
So, your decision to take IELTS or OET will rely on the major differences that appear in both of the tests. Following we have listed those key differences.
Differences between IELTS and OET Test
The major difference between the two tests is their contexts. As in the IELTS test, the context consists of a variety of subjects. While in the OET test the context will be according to the medical information. So, if you belong to the profession of doctor or nurse the OET test will be according to your profession. 
So many medical professionals want to attempt OET. However, this should not be the only reason that you make a decision to take the OET test. 
It is to be noted that the IELTS is cheaper than the test of OET. Moreover, it is also available in more places than OET. Additionally, the IELTS test dates are more available than the test dates of OET. 
Both of these tests are English tests so, it means that you need to have good English. But note that, there are also some differences in the test skills. This means that you need to prepare differently for each test. 
To attempt these tests you need to spend more time in preparation and have to put your all effort. However, if you have prepared for one test by giving your precious time then it is a bad idea that you switch to give the other one. 
Additionally, according to the fact that there are usually more than 3 million people who take IELTS every year. While if you consider OET there are only 25,000 people who take OET each year. So, this means that you will be having more test preparation material available online including the online courses. However, for the OET the preparation material is limited. 
Coming to the acceptance of both tests, it should be noted that the IELTS test is considered as a gold standard. Moreover, it is accepted by a wide range of institutions all over the world. In contrast to this, OET test acceptance is low as it is only accepted by some institutions. 
So, considering the acceptance of the test, IELTS is a better choice for you. Mainly when you are a little unsure that you will study or work in the future. 
Retaking the IELTS vs OET test
IELTS test can be retaken many times, as there is no specific limit to retake the test. However, there is one thing that is very frustrating about IELTS. If you, unfortunately, get fail in any one section of the IELTS test then you have to take the test again. This is mainly disappointing for the people who usually struggle in the writing section. 
On the other hand, in the OET test, a candidate can have good scores by just focusing on the abilities in which he is not good at. So, this is the biggest advantage of the OET test which should also be introduced by the IELTS. 
Some people say that some institutions want candidates to take the four modules of the test at the same time. So, please check from the institution their requirements before applying. 
The following information is provided by the GMC on their official website. 
The OET certificate is accepted in the following conditions. 
You attempted the OET test whose version was medicine. 

The minimum score you got in each of the sections of the test (listening, speaking, writing and reading) should be B. 

You have gained the grades in a similar test. 

A candidate number should be provided. 
You should have obtained the grades in a recent test. 
Is OET easier than IELTS Test?
Most of the candidates find OET easy just because of its introduction and they think that giving OET will be a good opportunity to get good grades. However, they are wrong in this aspect. 
Firstly, if you are thinking that the UK authorities will lower their requirements for language then you are thinking absolutely wrong. These language requirements are set so that the public can be protected by the nurses and doctors who do not know how to communicate with patients in the English language. This can be frustrating for many people but it is necessary to maintain the standards. 
Secondly, both of the tests assess the abilities of the candidates in the English language. So, if your abilities are not up to the mark then you cannot pass the professional exam. However, many candidates complain about IELTS that it is unfair, but if you see their writings, then you will come to know that they had problems with vocabulary and simple grammar. 
Note: It is to consider that if you have good English language skills then it does not matter which test you give, you will succeed. 
Moreover, switching from one test preparation to another is always a bad idea. This is also observed in candidates who prepared a lot for the IELTS exam and then switched towards the OET exam and got bad grades. 
There is no direct answer to the question that which test is easy. As you have to prepare well for both of the exams in order to get the good scores. So, just go with your skills and make your own decision about which test to take. 
So, instead of asking which test is easy, it should be another way around that you should ask which test is suitable?
Is OET more suitable in comparison with IELTS for the medical profession?
If you consider the costs of the two tests, then IELTS is always a better choice for you. However, you may have to retake the test many times to get the score you desire. In contrast to this, giving OET thrice may cost you $1500 USD which is very expensive and is double the amount you will pay for IELTS. 
Additionally, if you invested your time in the preparation of one exam then you should not switch to another one. As it would be a bad idea and you will not be able to perform well in the other exam. 
The reason that most of the people fail the English language tests is that they don't have good English. It does not matter which test you take, you will end up failing the test if your English is not good. So, always try to improve your language skills and then think about which test you should give.  
IELTS VS OET: Which one you should go for?
The key to getting good grades can be taken from the quote below.
GMC Chief Executive, Charlie Massey, said: 'Doctors from overseas make a huge contribution to frontline healthcare in this country, and it is more important than ever to make sure that the path for highly-skilled doctors to work in the UK is as straightforward as possible. But it is also vital that those doctors coming to work here have a good standard of English. We have reviewed the OET thoroughly and are confident that, as well as giving more flexibility for doctors keen to work in the UK, it will continue to ensure that only those with a high level of English will reach the required standard. We are giving overseas doctors an alternative way of demonstrating their English skills, but without reducing the high standards we require and that patient would expect.'
So, OET is not an easy test but definitely, it is another option. 
Thinking OET as an easier exam is just like you think that marathon running will be easy in your home city. It is a possibility that you might fail the exam even when you are familiar with all of the context in the test.
So, in order to have good scores, just focus on improving your abilities in the English language and you will pass easily any English language test.