IELTS Reading
General Training IELTS Reading Section: Tips, Tricks and Practice Modes
Reading Section of General Training IELTS-Information And Tips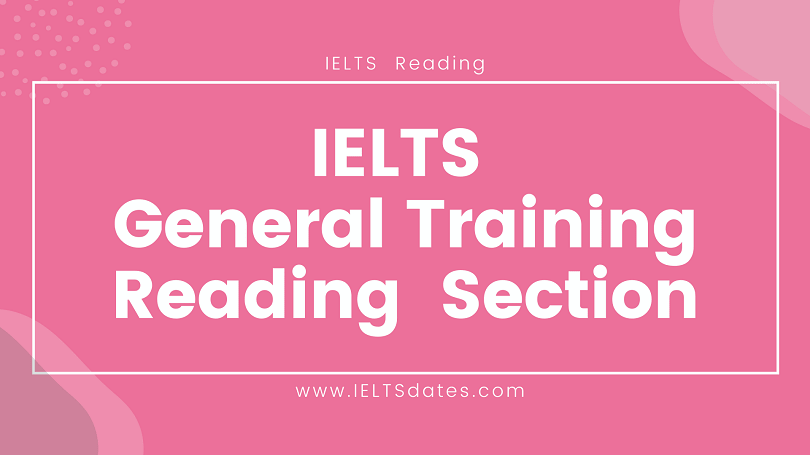 The general training (GT) test of IELTS is somewhat easy than the academic IELTS. Moreover, the reading exam of IELTS GT is different from the reading exam of academic IELTS. These differences are in language complexity and the passages' difficulty level. Apart from these, there are also similarities among them such as both modules reading exams are 60 minutes and contain 40 questions.
Reading Sections of General Training IELTS
The GT module contains three sections. However, keep in mind that the first two sections contain one or more texts. Anyhow, difficulty level increase with every passing section in the reading test.
Reading Section 1:
This section contains a maximum of three texts. These texts are about English life such as hotel advertisements, educational courses, or facilities for sports centers. However, these texts are not very long and contain facts rather than descriptions.
Reading Section 2:
This section also has texts which can be a maximum of three in number. The texts in this section are about work such as payment schemes, machinery instructions or work conditions, etc.
Reading Section 3:
The third section is the last section and it contains one text that is long and has a complex language.
Band Scores for IELTS GT Reading Section
The questions in the reading exam of IELTS GT are scored in a different way than academic IELTS which brings a difference in total band score. However, for your convenience below we have mentioned the conversion of scores to bands in IELTS GT. Anyhow, keep in mind that the score conversion is only given for the band 2- 9.
Types of Questions in IELTS General Training Reading Exam
Both types of IELTS modules contain the same kind of questions in the reading exam. These questions are of various types for which you should be well prepared. Following is the list of types of questions that come in the IELTS GT reading exam.
Matching headings
Summary completion
Not given, yes no / not given, true false
Matching the information from a paragraph
Short questions answer
Sentence completion
Flow chart/ table
Diagram labeling
List selection / multiple choice
Categorization
Title choosing
Sentence ending matching
In order to practice such questions, there is a lot of preparation material available online and in the market. You can always find some books in the market which have the practice tests that will help you in knowing the question types and how to solve them. Additionally, you can have so much material online and can practice a lot from there as well. Apart from this, keep in mind that all of the above-mentioned questions need a different solving strategy. So, if you make a good solving strategy for each of the question type then it will be very easy for you to finish the test in time and have a good band score.