IELTS Writing
11 Secret Tips for IELTS Writing Part to get Highest IELTS Writing Band Score
11 Tips To Ace IELTS Essay Writing Exam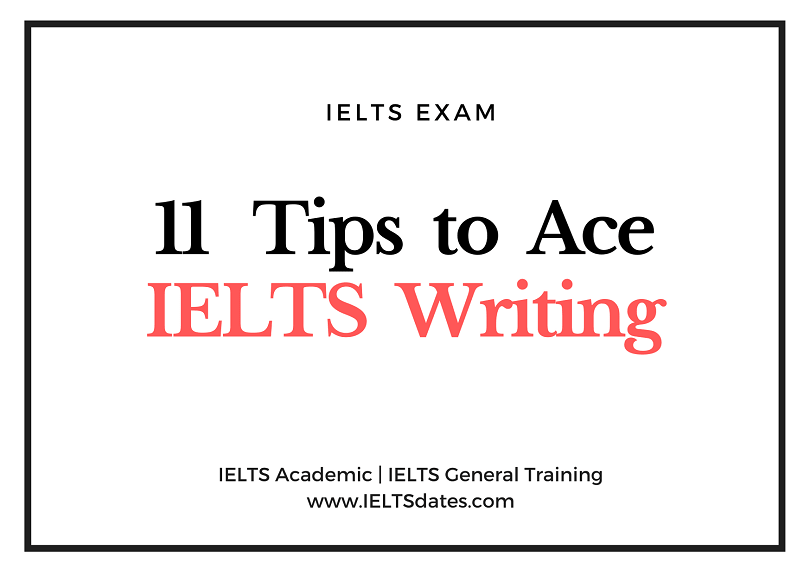 When most of the people are asked that which writing task is difficult for them to attempt, they rate the essay writing to be the most difficult one in any of the IELTS modules, either its IELTS academic or IELTS general. 
However, task 1 in the writing section of IELTS which is a report writing is IELTS academic and letter-writing writing in IELTS general is also not easy. But still, most of the candidates find essay writing very challenging.
In task two of the writing section, you have to answer a question. Or in other words, you have to write a minimum of 250 words essay. But keep in mind that you also have to keep track of time as, you only have 40 minutes to complete the task. So, always try to use your skills efficiently so you can get a good score.  
Moreover, in task 2 of the IELTS writing part, you will be asked about different kinds of essays. These kinds include an Argumentative essay, Opinion essay, Problem and Solution essay, Advantages/Disadvantages Essay and a mixed essay. So, in order to write a correct response to an essay you have to first identify what type of question is asked from you. Additionally, it is expected that you will use your experience, skills and different kind of examples to answer the question.
IELTS Essay Scoring Criteria
If you wish to know the scoring criteria of the IELTS essay, then here is how it is scored. 
Task Response

Coherence & Cohesion

Lexical Resource

Grammatical Range & Accuracy
Each of the criteria mentioned above comprises 25% of the total score. So, if you are not taking the criterion seriously then you can not have a good score in the writing section.
So, in order to get a good score in task two of the IELTS writing section, here are some of the strategies and tips for you. 
Essay Task of IELTS Writing Section – Guidelines for a Top BAND Score
Following 11 secret tips on attempting the IELTS writing section exam, the candidate can definitely get a high BAND score in their IELTS exam.
Understand

Map Your Ideas

Familiarize yourself with the Common types of topics

Inquire Yourself Questions

Make your own personal opinion

Try to manage the time

Take care of your vocabulary 

Make Paragraphs

Always complete the answer

Know Spelling, Grammar, and Punctuation

Try to use a formal language
#1 Understand the context
Understanding the question type is very important as it solves half of your problem. It is very important that you pay attention to the problems that are mentioned in the question. So, always read the question carefully. Then identify what is the type of the question. Whether it is an opinion essay, a discussion essay or the question is asking for a solution for a particular problem. Try to identify the keywords and comprehend them, so you know what is the expectation of the examiner. Always try to avoid writing the topic generally as you will not get a good score.
#2 Map Your Ideas
So, before you start writing, take a 5-minute pause and try to brainstorm the idea on a paper. Write different ideas that come into your mind according to the given topic in the form of bullets. You always have a good chance to score more in the test if you have organized your ideas properly in a paraphrased manner. On the other hand, it will also save your time as you will be able to write faster, with clear ideas in your mind.
#3 Familiarize yourself with the Common types of topics
There are many online preparation materials available that provide you with a lot of the sample topics so that you can prepare well for the writing task. Taking help from those preparation materials also makes you familiar with the pattern of the test, questions, familiar topics, etc. Moreover, this also helps you with increasing your vocabulary so that you can brainstorm more of the ideas. Additionally, try to read the newspaper, this will increase your vocabulary and knowledge, and you will be able to score well. Always remember one thing that the exam of IELTS is designed to test your English language competency and not for testing your knowledge. So, always present your essay with a great thought process including different examples so that you can achieve a big score.
#4 Inquire Yourself with possible Questions
There is also another way by which you can prompt yourself to generate more ideas. And that is by asking a question from your own self. If you ask questions like why/what/where/who/how about a certain topic then you can generate ideas. This will help you to write more efficiently.
#5 Make your own personal opinion
The most efficient method by which you can write a good essay is to write a personal opinion on it. For example, imagine if you are asked to write an essay on a topic about your friend. In that essay, you will have to write what are your thoughts about your friend. And you will use different kinds of examples to make your idea clear. 
So, it will not be difficult for you to write an essay and get a 7+ band score if you understand the question thoroughly and comprehend accurately about what to write in the essay.
#6 Try to manage the time
The IELTS test is bound with time. You have to complete task 2 of the writing section in 40 minutes. So, for this purpose, you need to develop certain skills that will help you in managing the time in the IELTS exam.
To develop your time management skills, start with writing an essay with an accurate strategy. Always try to spend only 5 minutes in the planning of the ideas. Moreover, try to complete your essay five minutes before the end time. This is important because you will need 2 or 3 minutes in doing the proofreading of the essay. Additionally, proofreading can always save you from making grammatical or spelling mistakes in your final essay draft, as you may have made some mistakes while writing in a hurry.
#7 Take care of your vocabulary 
The lexical resource comes under the criteria, set for the assessment of the writings. But many people do not know that how should they use the lexical features. The lexical resources include the use of the correct and accurate vocabulary, correct spellings, proper word formation, and collocations implementation.  
People who do not know about this, use different words that are repetitive in the essay. On the other hand, the examiner checking your writing want you to write a different variety of phrases and words in the essay. However, if you do not create such vocabulary in your essay then it puts a negative impact. Examiner thinks that you don't have a correct knowledge of the language and then gives you marks according to that.
#8 Make Paragraphs
Always try to make paragraphs while writing the essay. It is very important if you want to get a good score in the writing task. Making paragraphs gives the shape to your writing and it makes easy for the examiner to read your essay. However, if you don't do it and write the whole of the essay in a single paragraph then definitely it will cost you marks. 
The following structure should be followed in the IELTS writing task:
Structure of an Essay
#1 Introduction
#2 Body Paragraph A
#3 Body Paragraph B
#4 Conclusion
So, in order to turn your essay into different paragraphs, convert your ideas into the paragraphs. And then in each paragraph, explain your ideas to full. Then, later start another paragraph presenting another idea. But keep in mind, that your ideas should be interlinked with one another. 
An ideal essay in IELTS consist of 4 paragraphs. Anyhow, you can add more paragraphs if they are needed. Keep in mind, that you do not have to add extra information if it's not necessary, as it will cost you marks and you will not be able to get a good band score.
#9 Always Complete the Answer
In order to get a good score in the writing section always make sure you have completed the task. Many candidates fail to attempt the whole task which results in low scores. However, there are also some people who in a hurry put bullet points or write very short sentences which is absolutely not right at all. 
The test of IELTS is designed to asses your language skills and if you write incomplete answers then it would be difficult for the examiner to asses your abilities in the English language. As a result, you will have poor grades. So, do not try to write bullet points or small sentences. Instead, always try to write different paragraphs to explain your ideas. Therefore, writing an essay in a proper way will showcase your abilities and you will be able to score better.
#10 Know Spelling, Grammar, and Punctuation
There are candidates who do not take care of the correct spellings, appropriate grammar and punctuation which play an important role in getting a good score in writing tasks of IELTS. In this case, you have to be very careful as small mistakes can lead to a great reduction in the score. So, you must practice hard before, in order to get a good score.
#11 Try to Use a Formal Language
IELTS writing section needs you to write the task in a formal language. Nowadays, people are fond of using an informal language because of the SMS and other applications of the chat. But note that, this practice is strictly prohibited in IELTS. Using the informal language sometimes may offend the person checking your writings and you will get a lower score. So, always use a formal language.
What did we learn from the above-mentioned IELTS exam writing section tips?
So, from the above tips, it will be easier for you to understand what type of tricks you need to score well in the IELTS writing section. If you make many mistakes it will definitely cause a reduction in the score. So, make sure that you understand all the tips and then practice for the test accordingly. Moreover, try to be precise and clear while expressing your ideas and always try to add examples to support your ideas.