IELTS Listening
IELTS Listening Section 1 Tips and Guidance on attempting IELTS Listening Section Exam Part
IELTS Listening Section Secret Tips and Thorough Practice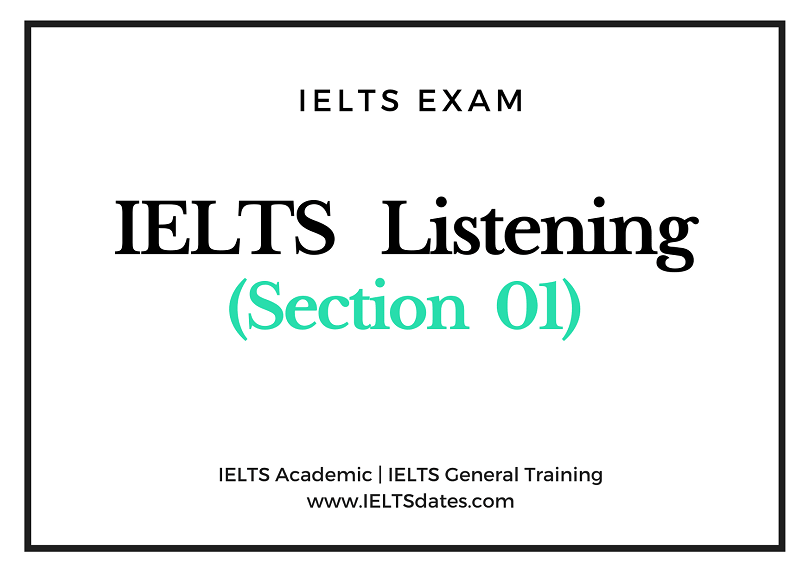 Section one of the IELTS listening test usually contains a conversation between people who in most cases are just two in number. While listening to their conversation, you have to complete the fill in the blanks questions in the IELTS listening part of the exam, which are based on the information presented in the dialogue between people. So, your goal must be writing all the answers correctly by carefully listening to the recording. 
The following are some of the tips for getting a good score in section one of the IELTS listening test. 
IELTS Listening Section 01: Tips, attempt guidance and practice
#1 Read Questions and Instructions very Cautiously
The first and foremost thing you have to do is to read all the questions and instructions very carefully as it will give you a general idea about what kind of questions are there. Moreover, it is necessary to read the instructions as they will tell you to have to do. 
#2 Write a number and/or word for each blank 
Always keep in mind that you have to write only one number or word in each blank. This is important to know so that you don't waste your time writing whole sentences. 
Always read the questions before the start of the recording so you may have the idea of what to write in the blank and what type of information you are required to write in the blank. Reading the questions during the recording will distract your mind and you will not be able to focus. 
#3 Recall Your Previous Knowledge
Remember you can always use your previous knowledge to guess the words in the blanks. As your prior knowledge refers to the one which depends upon your experience. Moreover, most of the times students are aware of listening section vocabulary.
However, here is the list of some common words related to certain situations that you can consider using in IELTS Listening Section one:
Payment: check, cash, money order, credit card
House type: flat, house, dorm, student hostel, homestay
Facilities: furniture, gym, laundry, household appliances
ID: passport, ID card, student card, driving license/license
Book type: newspaper, novel, magazine, journal, fiction, non-fiction, reference book
Rules: loan period, due date, fine, renew a book
Bank account types: checking account, savings account, credit card, deposit account, debit card,
Activities: deposit money, withdraw money, open/suspend/activate an account, transfer money,
Required information: phone number, billing address, bank statement
Basic information: returning date, departing date, first/business/economy class
Types of ticket: multi-destination, one-way, round-trip, non-stop flight
Insurance types: medical and dental insurance, home insurance, critical illness insurance, life insurance, travel insurance
Other words: monthly/half-yearly/annually payment, coverage, insurance terms, third party 
#4 Write Answers on Question Paper First
While listening to the recording make sure you write the answers on the question booklet first. Later you will have the time of 10 minutes to transfer your answers on the answer sheet. This is important as writing questions on the question booklet will not distract you and you will be able to focus on the questions answers only and not the spelling and handwriting. 
#5 Check Grammar and Spelling
Before you handover your IELTS exam sheet makes sure you check your grammar and spellings. Most importantly you should check the plurals and past forms of verbs and nouns. Checking these errors is important because you will lose marks if you do not write them correctly. Despite this information, many students still make such mistakes.