IELTS
Good IELTS Score for Canada and New Zealand for University Admissions and Immigration
Acceptable IELTS Score for Canada and New Zealand for Scholarship or Travel Purposes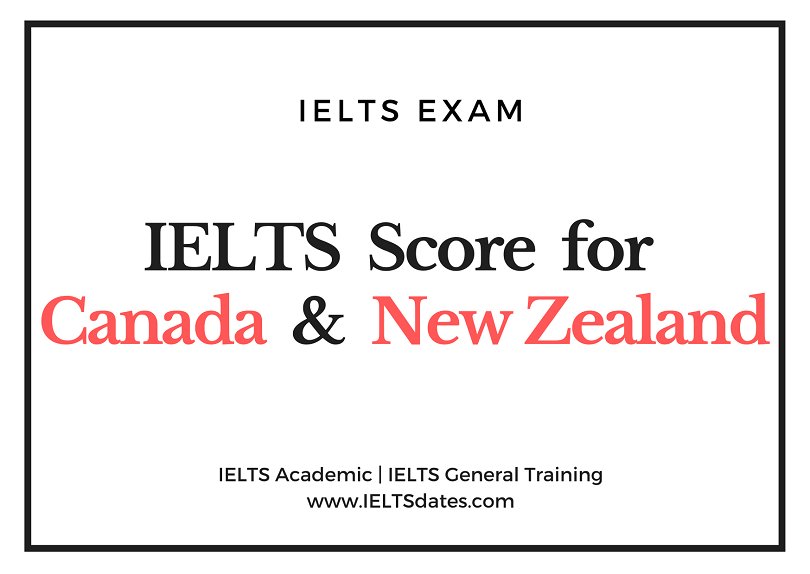 What's a good IELTS score in Canada?
In Canada, the requirements for the IELTS score depend upon the kind of visa you are applying for. For example, according to the information given on the Canadian website, there are different language test score requirement for the visa of a skilled worker. The IELTS score requirement is listed in the CLB (Canadian Language Benchmark) on the website where French and English language skills are mentioned. However, you should use a tool to convert your scores of IELTS for the requirements of immigration. 
Some examples
According to the university official website the applicants need to have a score of 6.5 and not less than 5.5 in any section. Moreover, graduate students also need to satisfy the same requirement. However, it is noticed that the grad programs are flexible towards IELTS score requirements. So, in order to have full information check the official website before you start applying. 
According to Queen University, you must have a 6.5 IELTS score for the undergraduate program with not less than 6.0 in any section. Moreover, for the graduate students, the requirement is a 7.0 score in the ILETS exam. 
What's a good IELTS score in New Zealand?
IELTS score needed for the visa purpose in New Zeland depends upon the type of visa you are going to apply for. Moreover, in New Zeland, each institution has a different requirement of IELTS score. 
For example, considering the score requirements of individual universities 
The University of Auckland asks a score of 6.0 in the IELTS exam with not less than 5.5 in each section, for a bachelor's degree. Moreover, the university requires 6.5 bands for a postgraduate degree program with no less than 6.0 scores in each section. However, make sure that it is minimum criteria and many other institutions may require a higher score for admission purposes. On the other hand, the officials who deal with immigration purposes also check your IELTS score during the application processing process. But still, you have to check to yourself the criteria needed to apply at the university. 
The requirements for IELTS vary for different types of visas. The following are some of the examples. 
Investors: need 3.0 IELTS score or more
Entrepreneurs: need 4.0 IELTS score or more
Parents Category: a maximum of 4.0 in two of the four categories i.e listening, reading, writing, and/or speaking
Skilled Migrants: a minimum score of 6.5
To have more information you can always visit the official website for immigrants.