German Scholarships
Deutschland Stipendium (DAAD) Scholarships 2022-2023
Study for Free in Germany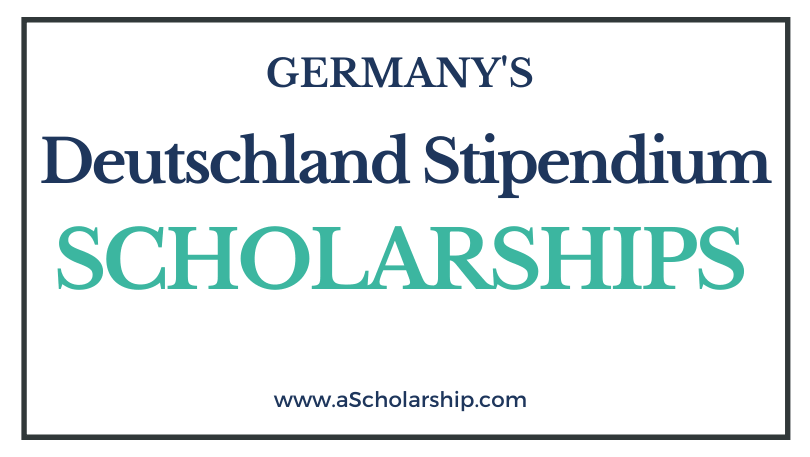 Deutschland Stipendium DAAD Scholarships 2022-2023 batch is currently accepting online applications from international students. Deutschland stipendium Scholarships is a renowned German Scholarships providing numerous benefits with several sponsors including government sponsors and many private sponsors.
The Deutschland stipendium Scholarships support highly talented students at all participating universities in Germany. The scholarship is awarded without consideration of personal or parent income and one's nationality is not material to award either. The scholarship funds do not count towards grants awarded under the Federal Training Assistance Act (BAföG). There are no social insurance contributions payable.
With the Deutschland stipendium, the Federal Government is expanding the financing of studies through a program that at the same time initiates a new scholarship culture in Germany. The federal government and private sponsors – companies, associations, foundations, and private individuals – jointly support high-performing students. In this way, civil society assumes responsibility for talented young professionals and thus makes a contribution to Germany's future.
Deutschland Stipendium Scholarships Benefits:
The Deutschland stipendium provides financial and non-material support to high-achieving and committed students from all over the world.
Modeled after the principle of public-private partnership, businesses, foundations or private individuals sponsor young talent with a pledge of 150 euros per month.
The Federal Government matches this amount with another 150 euros.
Many universities and private sponsors also support Deutschland stipendium holders through concurrent mentoring programs, networking events, and internships.
300 euros per month for international top-class talent.
Funding is normally granted for at least two semesters but may be provided for a maximum time which covers the standard period of study. At intervals of two semesters, the university reviews whether the scholarship holder still meets the award criteria and whether private funding will continue to be available.
More and more institutions of higher education and private sponsors are offering additional non-financial support in connection with the Deutschland stipendium. Mentoring programs, networking events and internships allow scholarship holders to establish valuable contacts to businesses and gain insight into work life.
Eligibility Criteria for Deutschland Stipendium DAAD Scholarships:
The Deutschland stipendium is awarded by the universities. Applicants must meet the requirements of the individual institutions.
In addition to academic achievement, the criteria for selecting scholarship recipients include social commitment and personal achievements, such as a student overcoming challenges or obstacles in his or her social or family background.
Students from other countries and their home countries can apply for the Deutschland Stipendium Scholarships.
Applicants who wish to apply for a bachelor's or master's program at a German University are eligible to apply.
Documents Requirement for Deutschland Stipendium Scholarships:
Students are encouraged to make a set of documents prepared beforehand to save them time while applying for the Deutschland Stipendium Scholarships. The following list of documents would be a helpful guide for students to apply for Deutschland Stipendium Scholarships hassle-free.
Study plan to entitle yourself as a scheduled student
Recommendation Letters by previous professors/Institutes (at least 2)
The research proposal in order to propose your innovative idea
Statement of Purpose (SOP) to explain your purpose in applying for the Deutschland Stipendium Scholarship.
A valid copy of passport.
Copies of all the educational documents (transcripts/certificates)
Motivation Letter explaining why you are good for applying for Deutschland Stipendium Scholarships
Deutschland Stipendium Scholarships Application Procedure:
Deutschland Stipendium Scholarships are offered by different universities.
To apply for the Deutschland Stipendium Scholarships applicants can apply directly from the chosen university.
The selection process also varies from university to university. Each university, after selecting the candidates, works on providing financial support from the affiliated sponsors.
Deutschland Stipendium Scholarships Deadline:
Closing dates of Deutschland Stipendium Scholarships depend on the chosen university. For more details about the opening and closing dates and application procedure, visit the official website of Deutschland Stipendium Scholarships here.