Admissions Without IELTS
Countries Without IELTS for College Admissions and Scholarships
List of Countries without IELTS requirement for College Admissions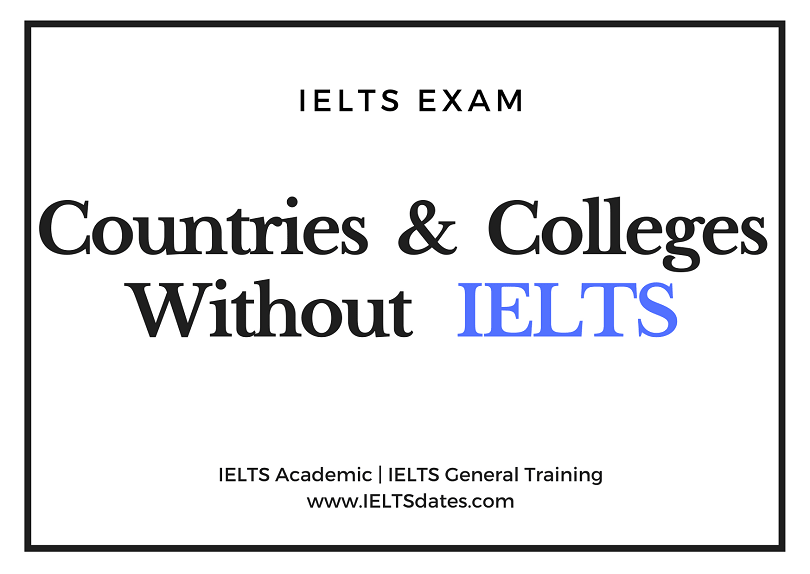 If you want to apply for studies abroad, then you need to make a list of all the pre-requisites for your college application. Different countries and universities have their own requirements, but almost all foreign universities require students to take a test of language proficiency. Commonly, students take either the TOEFL or IELTS exam. These exams are used to test how proficient you are in the English language, and will measure you on several scores, including how well you read, write, and speak in English. Not only is it difficult to score well in these exams if English is not your first language, but another downside to taking these tests is that it can set you back in terms of your timeline when you are preparing your college application. Plus, they also do not come cheap, and you have to pay a few hundred dollars just to sit for these exams. What's more, some students do not perform well the first time they take the test, and so they have to shell out more money so that they can sit for the exam all over again.
However, do not let this prevent you from applying to foreign universities. Even though your scores in the TOEFL or IELTS are required by most universities, there are still several institutions all over the world that can offer you admission into their programs even if you have not taken these tests.
Different countries, such as USA, Germany, and Australia, have universities that offer pathway programs, which are intended for those individuals who want to take up courses in the university of their choice. These courses help those students prepare for different subjects, including English and other academic subjects, who have not met course requirements. The duration of such a course is usually between 9 and 15 months. If a certain university does not accept your high school diploma, you can go for a pathway program instead before you pursue a Bachelor's or Master's degree.
Article: Table of Contents
List of Countries without IELTS requirement for College Admissions
You can go through a list of different universities that can give you the change to go for higher education abroad without the need to take the TOEFL or IELTS.
#1 List of Universities in Australia without IELTS
Australia has several universities that offer admission to even those students who do not submit their TOEFL or IELTS scores. These include:
Swinburne University of Technology
The University of Queensland
The University of New South Wales
The University of Southern Queensland
Bond University
The University of Adelaide
The University of South Australia
Macquarie University
If a student has undertaken full-time courses with English being the main language of instruction, or if they have worked in any English-speaking organization for a period of at least 5 years, then they are eligible to apply to the University of Queensland. Macquarie University and the University of Adelaide offer students the opportunity to take a program in English before their courses start. The University of South Australia and Bond University allow students to take alternate tests, like PTE or CAE. Bond University, Swinburne University of Technology and University of Southern Queensland (USQ) also accept those students whose secondary education was in English. USQ encourages students to take pathway courses before they apply for degree programs at the University.
#2 List of Universities in Canada without IELTS
Canada is a great option if you want to go abroad to study but also want to avoid the hassle of having to take the TOEFL or IELTS. Several institutions in the country do not ask students for their TOEFL or IELTS scores. The idea is that if you have ever lived and gone to school in a region in which English is the main language for a period of at least 4 years, then you do not have to prove proficiency in the English language. Here is a list of places that welcome applications from even those students who have not taken the TOEFL or IELTS:
Concordia University
Brock University
University of Winnipeg
Memorial University
Carleton University
University of Regina
#3 List of Universities in UK without IELTS
There are several places in the United Kingdom that welcome applicants who have not taken the IELTS. These include:
University of Bristol
London Southbank University
Robert Gordon University
The University of Bolton
Applicants from several countries, including South Africa, Nigeria, and Ghana often choose to apply to the universities listed above, in addition to others. The language expertise required varies with the nature of the program that you are applying to.
#4 List of Universities in Europe without IELTS
Apart from the United Kingdom, you can also apply to other European countries that do not need TOEFL or IELTS scores. Instead, students can prove their proficiency in English in the following ways:
A student is educated in English in recent five years and they have taken the O Level (Ordinary Level) or IGCSE (International General Certificate of Secondary Education), where English was the main language.
A student displays fluent communication skills in English and all prior education has been in English entirely.
A student applies to a university where he/she has already received a degree from.
A student has a degree that is only taught in English.
#5 List of Universities in Norway without IELTS
In order to study in Norway, you do not need to prove proficiency in English. However, if you apply to the University of Oslo, you might be required to submit your TOEFL or IELTS scores unless you are from South Africa.
#6 List of Universities in Germany without IELTS
In general, you will not have to submit your TOEFL or IELTS scores if your Bachelor's degree has been taught in English or if you are a native English speaker. In some cases, certain institutions might ask your previous institution to write a letter that testifies to your proficiency in the English language. Again, this depends on the program you are applying for since some do not even require any English proficiency at all. For example, if you choose to study English Philology, then you will have to take an English language exam.
#7 List of Universities in Holland without IELTS
In Holland, the in Holland University of Applied Sciences welcomes students from South Africa without TOEFL or IELTS scores.
#8 List of Universities in the USA without IELTS
Most universities in the United States do require TOEFL or IELTS scores to be submitted along with the other application. However, if you are certain that you want to avoid taking the TOEFL or IELTS, then you can look at the following places:
Drexel University: in order to pursue a degree at Drexel, you will have to sign up for two courses, namely the Bridge Program and the University Preparation Summer Program (UPREP) if you are an international student without any language proficiency proof.
University of Colorado: you do not need to present your TOEFL or IELTS scores if you meet the conditions below:
English is your native language
You have undertaken a program that has lasted a minimum of one year at an institution in the United States
However, some countries are excluded from this, such as Ghana, Nigeria, Botswana, and South Africa.
If international students sign up for the Intensive English Language Program (IELP), then they can also receive admission offers from:
University of Arkansas
State University of New York
University of Dayton
You do not need to submit any proof of English language proficiency in case you have attended any secondary or graduate school where the medium of instruction was English. The English language requirement is waived off for a few countries by the University of New Orleans and California State University.
There are other places as well that offer admission to students without demanding TOEFL or IELTS scores, such as:
University of Delaware
University of Iowa
#9 List of Universities in Malaysia without IELTS
Malaysia is a great destination for those who do not want to take the TOEFL or IELTS. After Singapore, Malaysia is the next leader as far as education is concerned, and you do not need any proof of English proficiency regardless of the program you are applying for, such as Bachelor's programs, Master's programs, or doctoral programs. In a majority of universities in the country, courses are taught in English.
#10 List of Universities in India without IELTS
For now, India does not require students to submit TOEFL or IELTS scores. Popular universities include the Banaras Hindu University, University of Delhi, University of Calcutta, and the University of Mumbai. Whether you are applying for a Bachelor's degree, Master's programs, or PhDs, you do not need to prove proficiency in English. Most courses are taught in English at these Indian universities, such as in science, management, or social sciences.
Keep in mind that some universities do not explicitly write that exam scores of the TOEFL or IELTS or other similar exams are required. Therefore, it is best if you personally contact someone at universities you are interested in through email or phone in order to make sure that you can be exempted from the English proficiency exam scores requirement.
#11 List of Universities in China without IELTS
There are a total of 273 Chinese Universities that offer admissions to international students without the IELTS requirement. It must be noted that China is the only country that offers a wide range of Fully Funded Chinese Government Scholarships to international students and they don't even need to submit an IELTS certificate for the application.
#12 List of Universities in Pakistan without IELTS
Higher Education Commission of Pakistan offers admissions and scholarships to international students to study in Pakistan and there is no need to submit the IELTS results as part of the application procedure.